GPT-4: Everything You Need To Know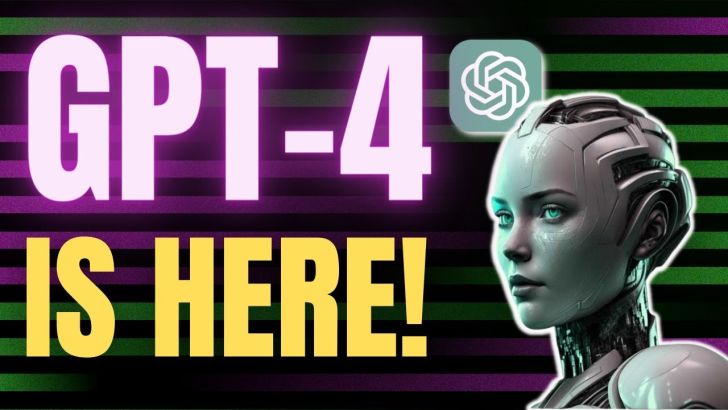 What is GPT-4?
OpenAI recently announced the launching of GPT -4, an update to the existing technology that powers Microsoft Bing and ChatGPT. The multimodal model was created and announced on March 14, 2023. It encompasses more than text as it accepts images as input. GPT-4 is expected to be faster and bigger than the previous versions and even more accurate. However, this is just the tip of the iceberg of what this AI model can achieve. Let's dive in and find out more about GPT-4.
Elevate Your Writing with Our Free Writing Tools!
Did you know that we provide a free essay and speech generator, plagiarism checker, summarizer, paraphraser, and other writing tools for free?
Access Free Writing Tools
What can GPT-4 do?
GPT-4 is a multimodal model that accepts image and text inputs to produce human-like output. With this model, users can upload worksheets for the model to scan and generate output responses. GPT-4 will also read a graph and make accurate calculations of the data in the graph.
This model also has improved intellectual capabilities that outperform the GPT-3.5 model, as seen in the screenshot below: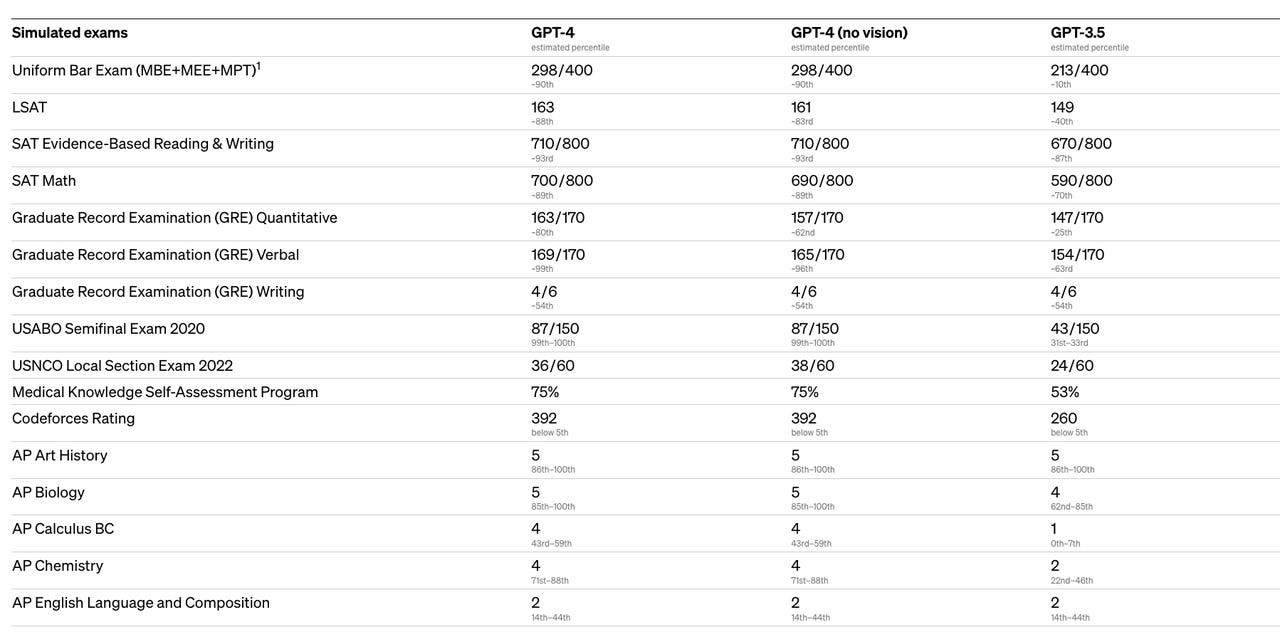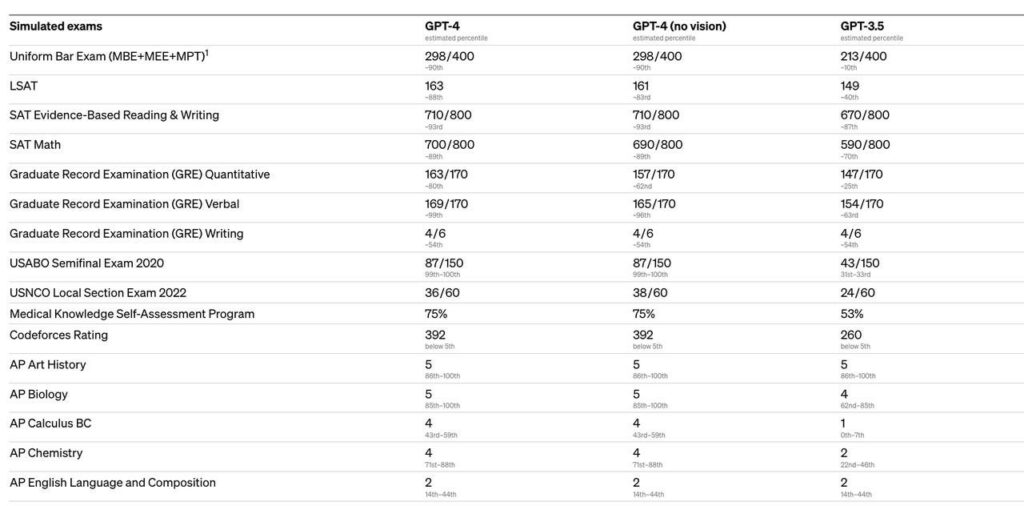 How to Access GPT-4 on ChatGPT
The multimodal model is behind a $20 monthly subscription plan. While not many will appreciate that it is not free, this is an excellent reason to upgrade and take up the paid package. For the users already on the paid program, you can upgrade from GPT-3.5 to GPT-4 on demand. You will also have the option to switch between the two models anytime you want. If you are using chatGPT for free, you must pay for a chatGPT+ subscription to access GPT-4.
How to Upgrade to ChatGPT+
Follow the following steps to upgrade to the ChatGPT+ plan:
Search for ChatGPT on your browser
To the bottom left sidebar, you will Upgrade to Plus.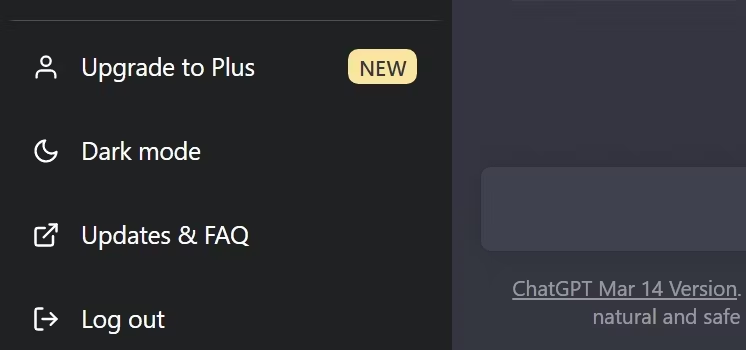 After clicking on it, a pop-up compares the ChatGPT Plus Plan to the free plan. Click on the Upgrade Plan in a green diode.
From there, you will be redirected to a payment page where you will key in your billing information, including credit card details.
After payment confirmation, you can access GPT-4, GPT 3.5, and GPT-3.5 default legacy models.
Pick the GPT-4 model and navigate to the chat interface to start using the model.
To be sure you are using the GPT-4 model, look at the color of the OpenAI logo before ChatGPT responses. The logo should be black and white, while the GPT-3.5 should be green-white.
How to Use GPT-4 for Free
You cannot access GPT-4 for free on ChatGPT for free, but there is another way to do it without using money. Use the Bing AI Chat. Bing AI has been around for some time now, and if you have been using the new Bing platform, you were using GPT-4.
Bing Chat's GPT-4 is not any different from the ChatGPT one. Bing's influence on the internet means the platform receives relevant and up-to-date data. Its GPT-4 delivers relevant and timely information. ChatGPT could be limited up to the date of the knowledge base.
Whether the artificial intelligence GPT-4 will be available for the free tier users is uncertain. On the flip side, OpenAI is making this platform available and accessible to third-party developers. That means you could come across third-party apps powered by GPT-4.
What is Bing Chat?
It is a Microsoft chatbot running on OpenAI's GPT-4. According to Yusuf Mehdi the Microsoft Corporate vice president, chatbot experienced 45 million chats in the inaugural month, and the new Bing sees 100 million daily active users.
Bing Chat is growing in popularity since it has ChatGPT abilities and is connected to the internet, while ChatGPT is not. You have to apply to a waitlist to gain access to the chatbot.
What is the Difference Between GPT-4 and GPT-3.5?
The biggest distinction between these two models is that GPT-4 is multimodal. That means it can use both text and images as input data. GPT-3.5 uses only texts as inputs. The other difference is that GPT-4 will be more capable of creativity, reliability, and intelligence than GPT-3.5.
Is GPT-4 Worth the Hype?
The AI community had high expectations for the GPT-4, but unfortunately, it did not include all the features anticipated. There were speculations that this model would be larger and more powerful than GPT-3. Open AI has not mentioned GPT-4 being bigger than GPT-3, and some experts believe GPT-4 is not much larger.
However, GPT-4 impresses many ChatGPT users, even the most advanced experts.
GPT-4 can be pretty helpful with the new improvements from previous models. However, you should not entirely depend on the model for accurate and relevant answers. As much as it will help you generate text that resembles college-level essays and also help research for more information from other sources, the essays may not be of high quality because it may not understand the subject or purpose of the essay. For quality essays that will guarantee good grades written by experienced writers without the use of AI, seek help from our cheap custom essay papers writing service.

Special offer! Get 20% discount on your first order. Promo code: SAVE20