5 Best Paraphrasing Techniques To Improve Your Writing Skills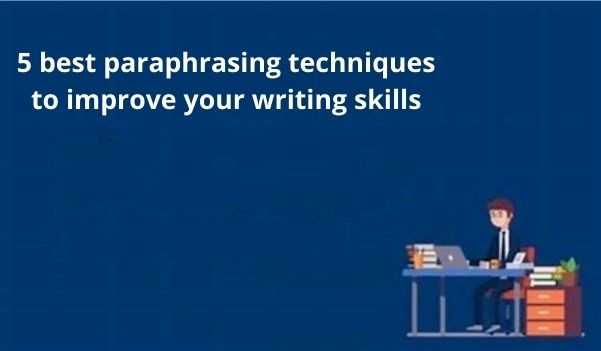 Whether you're a student or a web blogger, you'll always have to look out for featuring plagiarized content in your work.
Elevate Your Writing with Our Free Writing Tools!
Did you know that we provide a free essay and speech generator, plagiarism checker, summarizer, paraphraser, and other writing tools for free?
Access Free Writing Tools
And these fields are not the only place where you have to maintain uniqueness; plagiarism-free content is required in every sort of writing.
Writing plagiarism-free content requires a lot of practice and skill. You have to thoroughly understand and apply the knowledge while keeping things different from your source of research.
One effective method to create original content is paraphrasing. This technique involves several steps and methods discussed further in this article.
So, let's talk about how you can enhance your writing skills with some basic paraphrasing techniques.
1. Correct use of Active and Passive Voice
A lot of writers follow this method while paraphrasing. They read the article and change its written voice to make it look unique.
Sure, it works, but excessive use of passive voice indicates a form of bad writing that affects your content's readability score.
The basic structure of writing an English sentence is Subject-Verb-Object. This structure makes it simple for users to understand the concept we are trying to portray through our writing. This structure is followed under the active voice rule.
In contrast to active voice, passive voice makes things confusing when we place the object first in the sentence.
Some people mistake passive voice to add an essence of professionalism in writing. But instead, it makes things more challenging to understand by the audience.
As they say, excess of everything is terrible. Similarly, excessive passive voice can be bad for various forms of content like copywriting and technical writing. Using the passive voice is not always wrong, and we can use it in some cases.
Therefore, if you want to follow a good paraphrasing technique, you should focus on writing in an active voice. The active voice keeps things straightforward without creating confusion between subject and object.
2. Use of correct Synonyms
The use of synonyms is the most common practice followed in paraphrasing. This technique is the crucial element of paraphrasing, differentiating the original from the paraphrased text. This practice is also noticeable when we use a paraphrasing tool online.
We have to focus on the nouns and verbs mentioned in a sentence for this technique. We must decide whether those words are appropriate to replace. The choice of words while switching it with a synonym is crucial.
When replacing a noun or a verb with its synonym, we have to make sure that it does not change the apparent meaning of the sentence or paragraph. Changing words does not mean changing the sense delivered in the original text.
An example can be taken as;
Original text: I am working on my research paper to make it unique to secure better grades in the evaluation.
Synonym changed: I work on my research paper to make it unique and ensure better grades in the assessment.
In this paraphrasing, the apparent meaning of the original text is the same even when the verbs and nouns are changed, highlighted with the underlined text.
3. Switch the word order
Changing places of a word is yet another effective technique for paraphrasing. Sometimes it's easier to replace the phrase than understand and change the sentence's whole meaning.
This technique is effective with long sentences divided by commas or full stops. Besides changing the order of words or sentences, you can also follow the previously discussed active/passive voice technique.
4. Use a compelling set of words
Your words must be compelling and convincing to grab your reader's attention. Whether you're paraphrasing in an essay, blog post, or marketing content, the use of appropriate words implements the whole impression on your reader.
To successfully follow this technique, you can evaluate the original text to see if the language used in the sentences is way too formal.
It's easier to convert a standard language in a simpler sense as you can easily find the alternative words for such phrases.
While you have to focus on using the right set of words and adjectives to improve the readability of your writing, choose a specific location of words with verbs and sentences which seem relevant and appropriate.
Avoid repetition of words as it'll make your writing watery and annoying to read. Keep in mind that using strong words does not mean using difficult words.
Strong words should depict a beneficial effect from a reader's perspective, not something that seems like a scrolling message from the 18th century.
5. Proper use of tenses
Grammatical issues and tense placement have always concerned research papers and studies mistakes. Even some professional writers make this mistake in their writing, which negatively impacts their work.
The correct adjustment of noun-verb arrangement in a sentence is vital to writing a persuasive and compelling research paper or essay. Quite often, people mistake using singular verbs with multiple subjects.
This technique is usually misunderstood when we talk about writing in British English or American English. The use of 'S' and 'Z' sounds differentiate in each English type, impacting the readers.
Which Technique is the Most Effective?
Manual paraphrasing is not easier as you have to keep the actual meaning as well as you have to change the sentence structure yourself.
However, a paraphraser can be used online which can easily make the content unique.
These tools are based on Natural Language Processing technology, a product of Artificial Intelligence. You get the most accurate results with the original meaning and structure.
Using these tools is as simple as copy-pasting. You have to copy the text and paste it into the input box. One clicks a button, and you'll get paraphrased content in minutes.
These tools process to change the order and meaning of the words to differentiate them from the original text in the input box. These tools are the best solution for paraphrasing content without wasting any time.
Some Practical Tips for Paraphrasing
Undoubtedly, it takes a lot of skill and regular practice to master the paraphrasing technique. But if you know the proper procedure, you can make such activities easier yet enjoyable:
Thoroughly read and understand the passage to extract maximum information out of it. Make sure you are reading information from credible resources. The point is to understand the given message in the passage.
Based on your understanding and research, you should make notes to help you write. Researching and gathering information from various sources, skim the main points to generate unique content of your own.
While researching, you'll come across various structures and formats. It is best to create a structure of your own. You can create a fusion of formats you find while researching that specific topic.
Avoid jumping right into changing the sentences and words. Read the whole paragraph first to understand the sense of passage and then rearrange the words.
Producing unique content for your website and blog is the ultimate key to depicting your content's credibility. Writers and bloggers should possess the skill of paraphrasing to create quality content.
However, paraphrasing should not be misunderstood by simply rewriting. You have to make sure the rewritten content is relevant, readable, and error-free.

Special offer! Get 20% discount on your first order. Promo code: SAVE20