How Does An AI Paraphraser Help Students In Their Academic Work?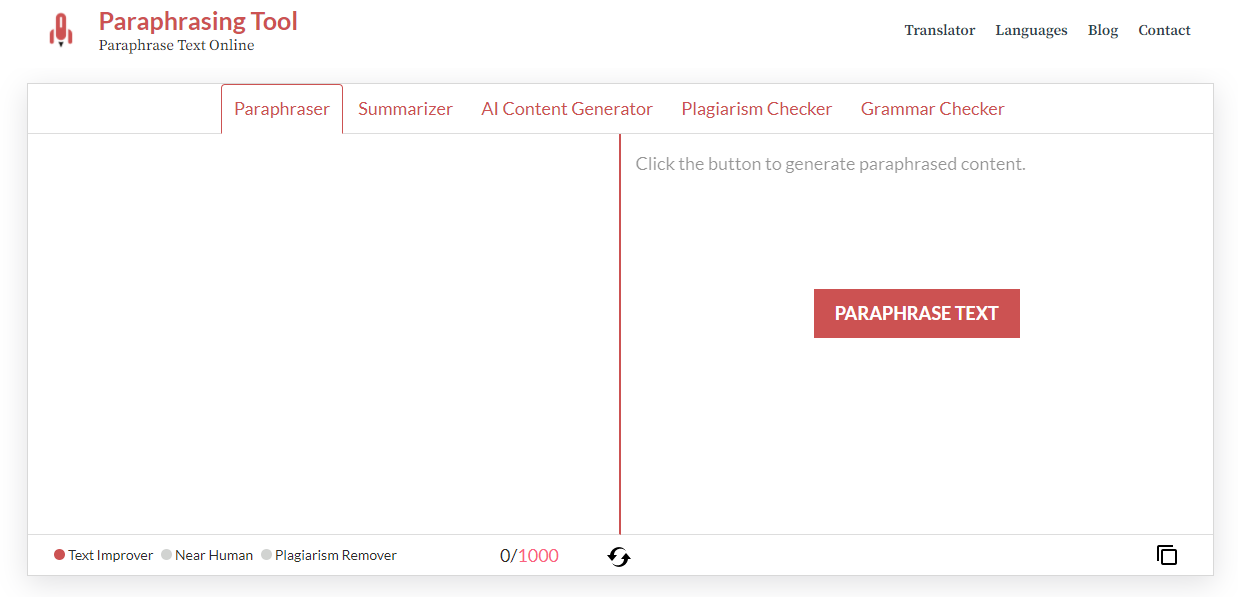 Experts suggest academic writing cannot be emotional or personal. However, the toll it takes on students does end up making it personal. With various academic writing types, students can go through a lot of turmoil to write content, such as:
Elevate Your Writing with Our Free Writing Tools!
Did you know that we provide a free essay and speech generator, plagiarism checker, summarizer, paraphraser, and other writing tools for free?
Access Free Writing Tools
Thesis writing
Dissertation
Literature review & lab report
All of these mentioned academic writing types can be stressful to write. Then, you enter AI into this frame, and things begin to change for writers. To be precise, we're talking about AI-based paraphrasing tools, which help writers from all facets of life.
So, how do they assist an academic writer or a student? Let's find out:
Defining An AI Paraphraser
An AI-based rephraser has many remarkable elements. However, the job of such a tool is to rephrase or revamp the content. If you're looking to rewrite your content, then you're thinking about an article rewriter.
The paraphrasing tool, on the other hand, only makes enough changes to revamp the content. Since the definition of paraphrasing is to present the same idea in a different manner, using alternative words and diverse terms & phrases.
So, how does it all work in a paraphraser? What is the making of such a tool? Here are two elements to understand:
1. AI Tactics
Artificial Intelligence is omnipresent throughout any of these tools. The primary making of such a tool depends on AI and its various algorithms.
However, the most important branch of AI when paraphrasing is NLP. Otherwise known as natural language processing helps the machine read and grasp human languages, i.e., the text to be paraphrased.
2. Changing Content
As mentioned before, the working of any rephrasing tool is to remake existing content. In other words, it will not rewrite or change it entirely.
Any of these tools aim to uplift, revamp, change, deviate or shift the content's narrative. And they do it without changing or compromising the central idea.
Why Do Students Need Paraphrasing Tools?
Students need them to assist them in speeding up their content creation process. However, compared to other writing assistants, such as grammar checkers, the primary purpose of a paraphraser is very specific.
Then again, it depends on where and how a student chooses to employ a paraphraser. To help them understand these factors, here are three main reasons for students to employ a paraphraser:
1. To Revamp Content
Content revamping is one of the necessary factors in creating academic content. If the content isn't up to standards, a student cannot afford to or have the time to rewrite content from scratch. The paraphrase tool that offers an option like this can help: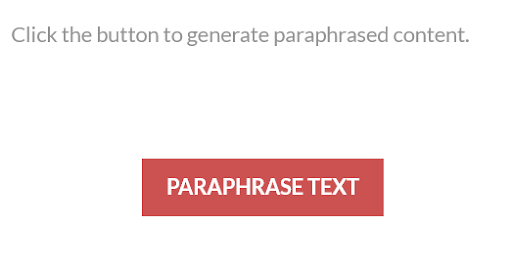 In other words, a paraphrasing tool with proper paraphrasing abilities can help a student with their academic content. And this is perhaps the most significant reason any student should add one to their arsenal.
2. To Uplift Their Text
Uplifting the text doesn't only include paraphrasing when needed. It's also about summarizing, ridding it from plagiarism, and improving its grammatical prowess. So, if a paraphrasing looks like this, then you need it:

As you can see here, Paraphrasingtool.ai has everything a student will need to uplift their content. These factors can add up and make the content of top quality, including:
Summarizing long-form texts
AI-based content generation to end writers' block
Plagiarism checker to ensure originality
Grammar checker to ensure the integrity
These are the factors that count when creating good academic content.
3. To Change The Content Tone Or Narrative
Every content in research paper writing has a specific narrative or premise. If it's not delivered correctly, students might face bad grades. That's why it's important to use them, as it can shift the narrative correctly, like this:

While it's only an exemplary sentence, it should help you understand how it has made the content more academic-like. By changing its casual tone into a serious one, the tool has made it much more akin to what an academic essay should be like.
4. Ways An AI Paraphraser Help Students In Academic Writing
Now that reasons are out of the way, here are four ways a rephrasing tool helps with academic writing:
Academic topics need to be unique to make a difference. If you wish to stand out on the assignment stack on your teacher's desk, you need unique topics. Here's an example of how a tool can uplift your topic:

As noticeable here, the initial topic wasn't bad. However, the changed one delivers a much better promise. That's why you can use such AI-based rewriters to revamp your topic ideas.
Speaking of revamping, the content you write might have critical information. However, it may not have the grit you need to get past the approval phase. So, here's how you can ramp it up using a free paraphrasing tool: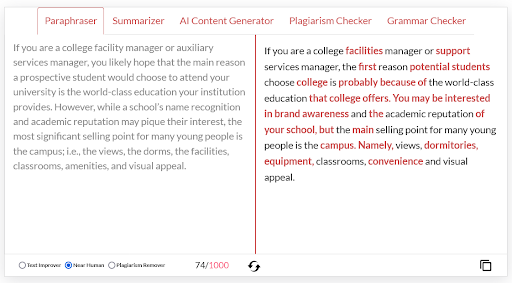 The changes made by the tool are marked in red. So, when you compare them with the initial text, you can understand why they're necessary to make your content deliver the idea better.
Remove Plagiarism Before Submitting
You need to ensure there's no plagiarism in your content before you submit it. You don't want your teacher to find your content like this: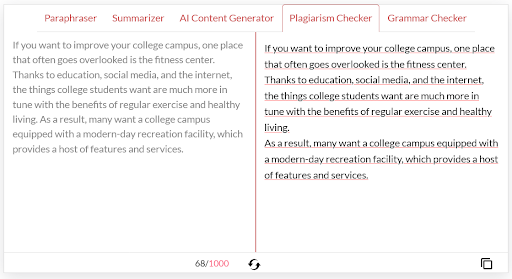 Instead, you need to do this: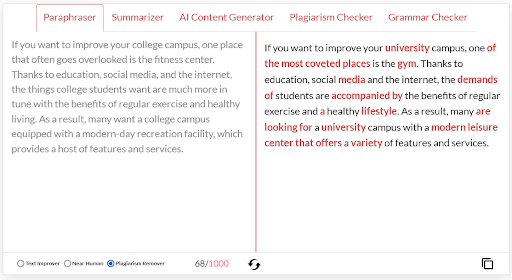 So, you can ensure this when you post your academic work: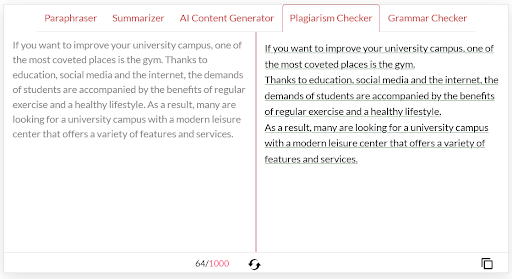 Notice how the content is all green after paraphrasing? Once you do that, make sure you cite the original source. This will avoid any plagiarism or duplicity in your writing.
Improve Grammar & Quality
The grammar and quality of your content need to be top-notch. In order for your academic paper to work, you need it to be effective in terms of grammatical prowess.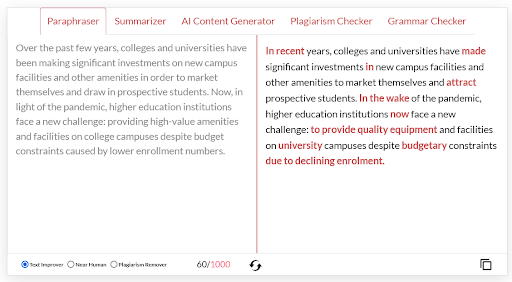 Therefore, using a tool akin to this can improve your content like this. It doesn't only fix any grammatical issues; it uplifts the quality by using the option named "Text Improve." Therefore, use a tool like this for the best results possible.
Writing good content for academic purposes can be achieved through this tool. All you need to do is focus on writing good content, then paraphrase it with this tool to improve its integrity.

Special offer! Get 20% discount on your first order. Promo code: SAVE20