10 Best AI Essay Writers in 2023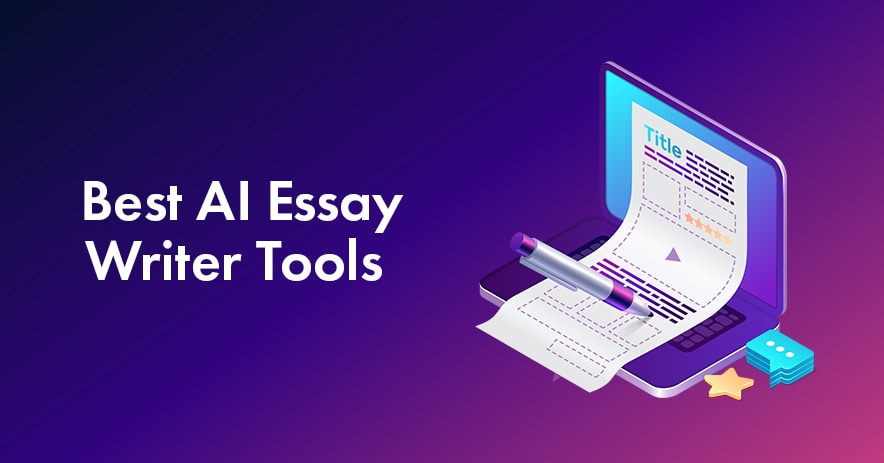 In this growing world of technology, Artificial Intelligence has a major impact on many industries, including writing. Artificial intelligence-powered writing tools are gaining popularity due to their ability to create high-quality essays quickly and efficiently, using algorithms and natural language processing to generate insightful and original content. Therefore, you can get your work done in many ways with these essay-writing AI's.
Elevate Your Writing with Our Free Writing Tools!
Did you know that we provide a free essay and speech generator, plagiarism checker, summarizer, paraphraser, and other writing tools for free?
Access Free Writing Tools
However, delivering top-notch work on time is a struggle for many students. Thus, most of them choose to use an AI essay generator. We have powerful types of AI tools that you can use depending on your preference. This article will discuss the 10 best AI essay writers in 2023.
1. Copy.ai
Copy.ai is a user-friendly AI tool that helps users develop high-quality essays. The AI assists users in developing essay outlines and ideas with the help of in-built templates. As a user, you only need to enter the major topic of your essay, and the tool will generate many options for you to choose from. The major advantage of copy.ai is that users can set the tone of their essay before commanding this AI for answers. To use copy.ai, you need to create an account first.
Additionally, this tool is also used to generate a wide range of content, including blogs, articles, social media posts, and cover letters, among others. Copy.ai is one of the best AI essay writers as it is well known to generate 2000 words for the free plan. This tool uses different language models to create content, such as GPT3, and thus, users can create custom templates for unique content requirements. Also, this AI paper writer can generate answers in over 25 languages and has a tool that can suggest keyword ideas for quality SEO optimization of content.
Pros and cons of the copy.ai tool
Pros
It is among the best AI essay-writing tool.
User-friendly
Offers a free plan to the users
The paid plan generates unlimited words
Users can customize content with 90+ tools.
Cons
Copy. Ai only offers a 7-day free trial for the Pro plan.
Copy.ai plan and pricing
This AI tool offers users a free plan and a pro-plan is available for only $49 monthly. The advantage of the paid plan is that it generates unlimited words.
2. Jasper.ai
Jasper is one of the best AI that writes essays. Apart from essay writing, this AI tool is well known in the market because it generates high-converting marketing copy in many formats, such as blogs, emails, landing pages, and many others, with its predesigned 60 custom templates. Users only need to choose the template, then enter the keywords with the appropriate voice tone, and later Jasper will generate the content.
The best feature of this AI is that it can generate long-form content such as articles, essays, blogs, and research papers. Jasper.ai can work with third-party integrations, for example, Surfers and Grammarly. Users can also check their content plagiarism via Copyscape directly within this ai essay generator. Jasper uses GPT-3 language model and can create content in 29 languages. When you use Jasper as your preferred ai writing tool, visit their website, create an account, and enjoy its services:
Pros and cons of using Jasper.ai
Pros
Creates 99percent original AI work
Jasper mergers with other tools such as SurferSEO and Grammarly
Users can check their content plagiarism with Copyscape
It can create AI images
The AI has 60 and more writing tools and templates
Cons
The third-party integrations require additional payments
Jasper does not offer a package for unlimited words
For essay users, it is a bit expensive
Jasper's plan and pricing
Jasper offers its users a customized plan where users can select how many words they want to produce per month and pay for that number. The starting package costs $29 monthly, and the Boss mode costs $59. When you subscribe to the yearly plan, you are guaranteed two months for free.
Feel free to read the best language learning apps: Breaking down cultural barriers.
3. Writesonic
This essay writing AI offers an intuitive and user-friendly interface and many customization tools that help users generate quality content per their specifications. Moreso, writesonic can create content in areas such as social media ads, website copy, product descriptions, and articles. Additionally, this essay writer AI can assist in summarizing, paraphrasing, expanding, and rephrasing an existing essay.
Writesonic also uses direct integration, thus enabling users to publish their articles on different platforms, for example, Zapier and WordPress. Lastly, the AI has an in-built readability checker, also used to check grammatical errors. Visit writesonic and create an account to start using write sonic as your preferred essay writing ai.
Pros and cons of using writesonic
Pros
While using writesonic as an essay writing ai, the users enjoy the following advantages;
Inbuilt readability checker and Grammarly
Writesonic generates top-notch content
Offers different content formats
Cons
It is expensive for users who generate a lot of content
Writesonic plan and pricing
This tool offers a free plan that can generate words up to 25000. For the paid plan, the package starts at $19 per month, and it can be modified depending on the number of words a user chooses.
4. ChatGPT
ChatGPT is an AI-powered chatbot with advanced text-generating abilities. This tool responds to a variety of prompts that are human-like. ChatGPT needs templates and tools, unlike the majority of the recently available AI-based writing tools. With the help of its user-friendly Chabot, this AI interprets and responds to a range of inputs, such as statements and questionnaires.
Users only need to type the command, and it will produce a well-written essay. This AI paper writer understands and generates essays in many languages. ChatGPT is intended to learn and grow as it interacts with its users. Visit their website, create an account with ChatGPT, and enjoy its services.
Pros and cons of using ChatGPT
Pros
It creates essays of various lengths in response to prompts
At the moment, it is free to use
It has a user-friendly chatbot
Cons
Offers limited knowledge of events after 2021
No standardized essay writing forms
ChatGPT plan and pricing
Right now, using ChatGPT is free. However, there is a premium plan that offers new features and quicker responses that goes for $20 per month.
5. ContentBot.ai
This tool is among the best ai essay writer, mainly used in producing marketing content. ContentBot contains 45+ different tools and facilitates text production in more than 110 different languages. It automatically generates blog ideas based on popular subjects and distributes them to users regularly. Moreover, the contentbot can generate quick and high essays from scratch because it uses GPT-3.
This AI is powerful as it generates recent content depending on your selected topic. It also has many editing options that you can use to edit your output. Visit their website below to access contentbot.ai.
Pros and cons of using ContentBot
Pros
Generates top-notch AI content
Offers over 45 writing tools and 110 languages
It has an in-built plagiarism checker
Cons
It is expensive
ContentBot is not easy to use
ContentBot plan and pricing
contentBot offers a free plan to its users that allows them only 250 shot AI content pieces and only two long blogs or essays per month. There is also a premium package for $59 per month and a premium plus plan that costs $99 per month.
Looking for the best assignment help service that produces papers from scratch without use of AI tools? Our custom research or term paper writing service is available 24/7 and specializes in creating custom research and term papers that are tailored to meet your needs. We have a team of experienced writers who are committed to delivering quality work within the specified deadline. Contact us today and relieve yourself all the pressure that comes along with handling assignments.
6. Scalenut
Scalenut AI makes it simple for users to create blog pieces ready for publication. This tool helps bloggers discover all the essential keywords and SERPS for any search topic as it has automated research tools; Additionally, scalenut tackles competitor analysis and aids users in creating a rough draft of their post. The AI has more than 40 AI writing templates that help it match every blog's tone and language.
Scalenut also provides SEO optimization to help in ranking every blog post. This tool integrates WordPress for one-click publishing, making it quick and simple to publish new posts online. Visit Scalenut and use it as your preferred essay writer ai.
Pros and cons of using Scalenut
Pros
Offers unlimited words in the premium plan
Has 40+ writing templates
Cons
Scalenut generates its responses only in English
Scalenut plan and pricing
This AI offers a free trial plan for 7 days and a premium unlimited plan that costs $39 per month.
7. Hypotenuse
Hypotenuse is another well-known Ai writing tool that generates many things, such as blog posts, email campaigns, and product descriptions. This AI is made to create batch material, and the users can select a topic and create numerous blog articles around it at once, and quickly update all the product descriptions in an online store. Hypotenuse AI is a powerful tool as it generates new content quickly online.
This ai paper writer supports more than 25 languages and has an in-built plagiarism detector. The AI writing tool helps users to cut costs as they can carry over unused credits from month to month, unlike other AI tools. Visit Hypotenuse.
Pros and cons of using Hypotenuse AI
Pros
Hypotenuse simultaneously creates several blog pieces and product descriptions
Offers AI images creation
Supports credit rollover from month to month
Cons
Does not have a plan that offers unlimited words
Hypotenuse plan and pricing
This AI writing tool offers free 7 days trial to the users, a starter premium package of $29 a month, and a growth premium plan of $59 a month.
8. Article Forge AI
Article Forge is one of the best ai that writes essays. This tool can research and produce entirely original, current essays using artificial intelligence and deep learning. This AI writer uses natural language processing to create papers that are customized to your needs. The key feature of this Ai is that once a user provides a keyword (and sub-keyword) to it, article forge reads millions of articles to learn everything there is to know about the topic. After that, the AI essay is written by its exclusive artificial intelligence, which is original and free of plagiarism.
Pros and cons of using Article Forge AI
Pros
It is user friendly
Produces endless numbers of articles and essays
Conducts the research
Cons
Users need to edit and proofread the end content
Produces a maximum article length of 750 words
Essays may lack a compelling introduction, body, and conclusion
Article Forge plan and pricing
The cost is $57 or $27 per month when billed yearly. There is also a five days free trial and an offer of a 30-day no-risking money-back guarantee to users who produce fewer than ten articles.
9. ShortlyAi
This essay-writing ai uses GPT-3 to create essays. However, ShortlyAi operates differently from other AI text generators; users use real-time commands instead of templates or tools. For example, users can highlight text and use the '/rewrite' command to paraphrase it. Users can also use other commands to give directions and shorten or expand text.
Although it might appear difficult at first, using commands is a simple task, and users can use shortcuts, giving them more flexibility when writing a text. The intriguing feature of ShortlyAi is that it can overcome "writer's block" characteristics. This ai will even help a user continue writing an essay if the user hits a wall while writing.
Visit ShortlyAi and use it as your preferred ai essay writer.
Pros and cons of using ShortlyAi
Pros
With the premium plan, there is no word restriction
Easy to command for customization
Gives writing assistance
Cons
It has a costly pricing plan
It does not offer built-in templates for content
ShortlyAi plan and pricing
This AI offers a free trial plan to its users and also a premium plan of $79 per month that comes with unlimited words;
10. Smodin.io
Smodin.io is another essay-writing ai that is worthwhile to consider. This AI tool has a wide range of capabilities designed with essay writers and other content producers in mind. For instance, users can create essays from scratch using its "Author" feature. Separate tools for rewriting and summarizing text are available on Smodin.io as well. This ai essay generator offers a citation generator that can be useful to users or students when writing essays.
Smodin.ai offers multiple languages, a built-in plagiarism checker, and it also integrates a chatbot. Thus, users can generate answers to questions or write unique essays. In addition, this AI id offers pocket-friendly plans; visit their website and use it to write unique essays.
Pros and cons of using Smodin.io
Pros
Generates original essays
Offers a citation generator to its users
Smodin.io is a user-friendly platform
Cons
Smodin.io has few features, unlike other AI essay generators.
Smodin.io plan and pricing
This AI tool has two paid plans that are $10 and $29 a month, with access to a large word count. Smodin.io also offers a free plan limited to only 1,000 characters a month.
Benefits of Essay Writer AI Tools
Produce high-quality and accurate content- Essay writer AI tools help generate top-notch work as they can check spelling and grammatical mistakes. Additionally, the AIs also assist the writer in ensuring that the essay's style, tone, and formatting are consistent; thus making the essay easier to read and more logical.
Time-saving- Writing good essays can be time-consuming and draining; therefore, AI-driven essay writing is the solution for many students. AI essay writers can help you save time by producing excellent content in just a few seconds. This gives writers or students more time to work on other crucial responsibilities.
Improved creativity- Most AI essay writers can suggest new topics and write slants for essays, thus assisting writers in thinking creatively and producing unique, original content.
Create personalized content- Many artificial intelligence (AI) essay writers have many customized features. These tools can learn and adapt to their users' writing styles over time, producing highly personalized content that caters to their particular needs.
Reduce stress- Students mostly use essay writing AIs, and essay writing can be stressful, especially when dealing with close deadlines. Therefore, an AI essay generator can help students feel less anxious about deadlines by accelerating the writing process.
In this evolving technology AI world, the writing industry has many powerful, easy-writing AI tools. Therefore, the best AI essay writers of 2023 offer a wide range of valuable features and benefit to students and professionals. These writing tools have been carefully chosen based on their ability to produce high-quality, accurate, original, and effective content.
For students wondering which AI essay writer to consider, read the information above where we have analyzed the best ai essay generators and get to choose your preferable AI tool. You can also visit Gudwriter Study to get access the best AI writing tools.

Special offer! Get 20% discount on your first order. Promo code: SAVE20