Study and prepare for your TEAS exam with our free TEAS practice test. Free ATI TEAS practice tests are valuable resources for those hoping to do well on their TEAS exams. As we all know, "practice makes perfect," these exams give prospective healthcare professionals the platform to pursue greatness. Thorough preparation is necessary to pass the TEAS exam effectively.
Elevate Your Writing with Our Free Writing Tools!
Did you know that we provide a free essay and speech generator, plagiarism checker, summarizer, paraphraser, and other writing tools for free?
Access Free Writing Tools
Our ATI TEAS, free practice test, follows the same format and level of difficulty as the real TEAS exam problems you will encounter on the exam. These practice exams enable learners to evaluate their strengths, identify their areas of progress, and hone their study techniques. With the help of these free TEAS sample exams, applicants can get a feel for the format, question kinds, and time limit before the test day. Familiarize yourself and get a detailed- explanation of the incorrect answers with our ATI TEAS practice test free.
Free TEAS Practice Test
Overview of the Exam
Individuals looking to enroll in nursing and allied health programs take the Test of Essential Academic Skills (TEAS). A student's readiness for the difficult demands of healthcare education is greatly influenced by this thorough evaluation of their fundamental academic skills across various disciplines. Assessment Technologies Institute (ATI) is in charge of grading the test. The TEAS Exam is essential for those joining nursing/ healthcare programs.
The exam has 170 questions taken under a time limit of 209 minutes. Students are tested in four areas:
TEAS Math – This section has 38 questions done under a time limit of 57 minutes. The areas tested include numbers, algebra, measurement, and data interpretation.
TEAS Reading – Questions in this area are 45, and the time limit is 55 minutes. The specific areas covered by the questions are key ideas and details, craft and structure, and integration of knowledge and ideas.
TEAS Science – The section has 50 questions done in under 60 minutes. The areas tested are human anatomy and physiology, life and physical science, and scientific reasoning.
TEAS English and Language Usage – This part has 37 questions completed in 37 minutes. The areas tested are conversations in Standard English, knowledge of the language, and using language and vocabulary to express ideas in writing. Struggling with English assignments? Gudwriter offers reliable English assignment help to help you enhance your writing and comprehension skills, complementing your TEAS test preparation efforts.
Passing the TEAS exam is necessary for individuals joining nursing/ healthcare programs. Prepare for this exam with our free ATI TEAS 7 practice test; we assure you excellent results. Read an essay sample on why I want to be a nurse.
TEAS 6 vs. TEAS 7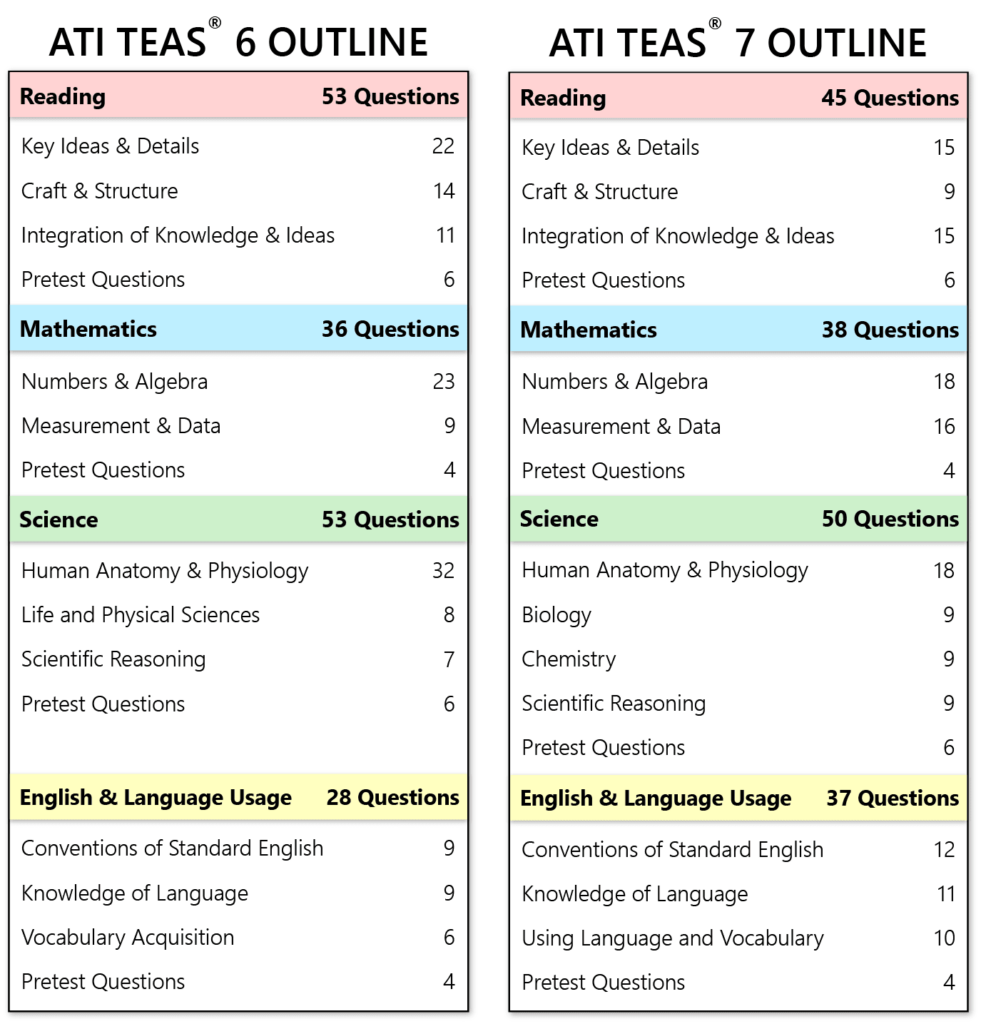 New Online TEAS 7 Test Question Types
Many healthcare programs employ the computer-adaptive TEAS 7 test for admission. The test is periodically revised to reflect the most recent developments in medical education. The TEAS 7—the most recent version—was released in 2023.
Four new question categories have been included in the TEAS 7 modifications. The new question types include the following:
Multiple-Choice Questions – Here, the questions have four choices. With only one answer to select as the correct one.
Multiple-Select Questions – The questions have more than four answers, and more than one answer is correct. Students are supposed to select all the correct answers without leaving any answers out.
Supply Answer Questions – There are no provided answers to these questions. Students must come up with their answers and fill in the blank space.
Hot Spot Questions – These questions have an image with two to five clickable places. Students should click the area that best answers the question.
Ordering Response Questions – These types of questions require students to arrange things in the right order. Their responses are between four and six, they should be dragged from left to right accordingly, and in case one response is out of order, the answer is incorrect.
Benefits of Using a TEAS Practice Test
Taking the TEAS practice test is essential for preparing and succeeding in your exam. Beyond only becoming familiar with the exam format, these practice exams provide an array of advantages that improve performance on test day. Use our free practice ATI TEAS test to prepare before the test day. Below are the benefits of using TEAS practice tests:
Familiarity with test format
Each standardized test, including the TEAS, has a distinct format for displaying questions and answer options. As you attempt more practice exams, you will become familiar with the question format and gain more confidence to handle the real exam.
It is important to practice time management because the TEAS exam is timed. It will be easier to gauge how long it takes to respond to questions in each topic area if you take our ATI TEAS practice test free in 2023. The practice exams emulate the format and structure of the real TEAS exam.
Identify your strengths and weaknesses
You can discover your areas of strength and weakness in each area by taking a practice exam. You can use this data to hone your study time in those areas that require the greatest improvement.
Tests like the TEAS measure problem-solving skills rather than rote memorization. To perform well on the exam, individuals must possess good problem-solving skills. For your improvement, we offer ATI TEAS 7 free practice tests explaining the right response in the score reports.
You can boost your confidence and prepare for the exam by taking a practice test. Doing well on a practice test might raise your confidence and help you offer your best effort on the real exam.
How to Practice for the TEAS Test
The key to your success on the TEAS test is preparation. A planned and all-encompassing approach is necessary for thorough examination preparation. To get the best results and set oneself up for success, one must learn how to study for the TEAS test successfully. Below are the tips on how to practice and pass your TEAS exam.
Taking a practice test is the most effective technique to determine your areas of strength and weakness. This will assist you in determining the areas of study that need the most attention. Our free TEAS practice test will help you practice for your exam and pass. Additionally, the actual examination's format, question types, and time limits are accurately replicated in these practice exams. You may monitor your progress, improve time management, and get more comfortable with the test format by regularly incorporating the practice tests into your routine.
Once you know your strengths and weakness, you may begin studying the areas you need to learn more about. Textbooks, study guides, and online courses are just a few of the tools at your disposal to aid your TEAS preparation.
After practicing tests, individuals receive thorough performance analyses detailing correct and incorrect answers. This segmentation makes it easier to spot where errors were made, enabling more targeted reviews and a deeper comprehension of ideas. The practice tests also help prevent making the same errors on the real exam.
Strategize your study plan
The key to effective TEAS exam preparation is creating a thorough study plan. Assess your strengths and shortcomings in each academic area—reading, math, science, and English language usage. Spend more time on the areas you need to improve while giving each subject equal attention.
FAQS
Will schools still accept my ATI TEAS 6 exam scores?
The results from the TEAS 6 and TEAS 7 are equivalent. This means they can be compared. Although it is up to each educational institution, if you completed the TEAS 6 exam, your institution should be able to accept that result. Since every institution has unique policies, confirming with yours is crucial.
How long is the TEAS test?
The TEAS exam has 170 questions under a time limit of 209 minutes.
How long will it take to get my TEAS results?
Depending on the institution, you will typically get your TEAS results as soon as you finish the test. It is possible that 48 hours after completing the test, you will get your results. Speak with the school or testing facility to learn more about the permits offered.
Are you allowed to use a calculator on the TEAS exam?
Yes, you can use a calculator. A simple four-function calculator will be provided for you.
What score do I need to get on the TEAS?
The passing scores vary depending on different nursing programs, although the average score tends to be between 65% and 70%.
How closely do the TEAS practice tests on your website resemble the actual TEAS exam?
Our free ATI TEAS 7 practice tests are tailored to resemble the actual TEAS exam closely. The format, test duration and questions are the same.

Special offer! Get 20% discount on your first order. Promo code: SAVE20