How to Write a Summative Essay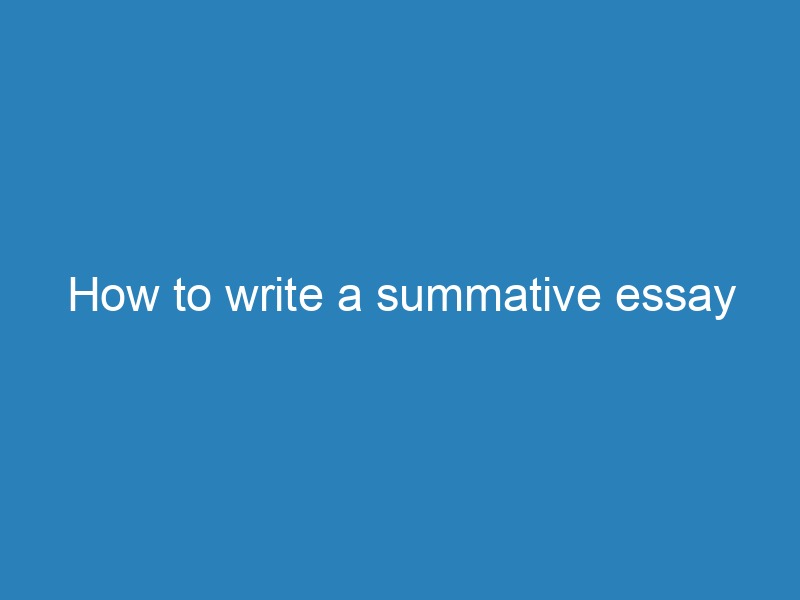 Have you ever been asked to write an essay about a book, movie, article, speech, or other reading material? Perhaps your teacher gave you a prompt and asked you to respond to it in an essay. If so, that was most likely a summative essay. A summative report is a short piece of writing about someone else's work. It explains the main ideas of the reading material and evaluates them. Such essays are often assigned to test your ability to understand what you read and articulate your thoughts. This post will explore valuable tips for writing a successful summative essay.
Elevate Your Writing with Our Free Writing Tools!
Did you know that we provide a free essay and speech generator, plagiarism checker, summarizer, paraphraser, and other writing tools for free?
Access Free Writing Tools
What is a Summative Essay?
A summative essay is an academic paper that requires students to evaluate and synthesize information learned over a unit or semester. It summarizes, describes and evaluates the main ideas of the reading material. A summative essay can be written about almost any topic. It can be based on a book, a speech, an article, or other reading material. To report a good summary essay, you must read the material carefully, take notes, and think about what the author is trying to say.
Then, you should organize your notes and use them to write a summary. A summative essay is not the same as a book review. While both summarize reading material, book reviews focus on quality. They give an evaluation of the book based on a set of criteria.
Types of Summative Writing
There are different types of summative writing a student can handle. Understand that every style is unique and has other requirements. That means you must understand the summative writing asked before handling it. Allocate adequate time to the essays since you have to read, draft, edit and revise the paper before submitting.
Below are the main types of summative writing:
1. Opinion
Persuasive and opinions arguments may be used interchangeably. However, you should understand that they are pretty different. In an opinion essay, you have to state your ideology and then back up your side of the story with logic and facts. In this type of summative writing, students should show some improvement throughout their studies for evaluation from the teachers. This type of summative writing is given to students in 5th grade who must write a persuasive speech based on their opinion.
2. Explanatory
This summative essay is quite common in social science curriculums. Here the students focus on the unit plan's key ideas, main points and domain-specific ideas such as a reaction paper.
3. Argumentative
The argumentative summative essay requires developing and establishing a claim the student makes during the introduction. The claim has to be supported by details such as information and resources in the essay's body. There should also be an opposing claim where the student should state the contrasting point of view and add supporting evidence.
4. Evaluative
In this summative essay, the writer is supposed to take a given idea, element or individual in the curriculum and evaluate them in a specific criterion. Here students have to have their theme and stand by it using unit materials and text evidence. A good example is a cause and effects essay.
5. Compare & contrast
This essay has diverse attributes to the backgrounds and themes, such as specific geographic locations or individual personalities. These essays comprise a set of qualities and characteristics that students should compare and contrast using research evidence.
These summative essays do not require the student to pick a side. However, they are asked to cover both sides in comprehension and compare them thoroughly.
6. Theorizing
These essays will answer critical "what if" questions. The student is given a theory that contrasts or reflects the society today. The writer should take an individual, era or event to work on.
Elements of a Good Summative Essay
An effective summative essay ought to have the following crucial elements:
Validity – the report should reflect what the students have learned during the term or semester.
Reliability – the writing should deliver similar results throughout daily conditions, settings of classrooms and student groups.
Authenticity – the summative essay should reflect the skills in the real world outside the classroom context.
Variety – this essay should reflect the usage of different views and words to make the diverse.
Here is a summary essay with a response on how to tame a Wild Tongue that you might be interested in reading.
Format of Summative Essays
The summative essay formats are almost similar to any essay you have written. These essays will typically follow the standard format for writing an essay. An effective summative report must include an introduction, a body, and a conclusion.
The introduction should be clear, interesting, and engaging. It should also be written so that a reader who has never read the material can understand what it is about. A good introduction gives the reader a preview of what you will discuss in the rest of the essay. It hooks the reader and makes them want to read more.
The body is where you discuss the reading material and support your argument with evidence. The body should be well-organized. You can use various strategies to organize your essay, including a chronological order, a compare-and-contrast order, or a topical order.
The conclusion is the final part of the summative essay. The conclusion should restate your main point, summarize the paper, and bring the reader back to the introduction.
A standard essay is usually between five and ten double-spaced pages long. The introduction should be between one and three paragraphs long. The body of the paper should be between two and five paragraphs long. The conclusion should be one paragraph long.
Tips on How to Write a Good Summative Essay
Before writing a summative essay, you should read the reading material carefully. Remember to highlight or take notes while reading so you don't forget important points. Here are some of the tips to keep in mind when writing this essay:
Create an outline before you begin writing the essay
Get authentic academic material and only use that for the essay
Organize your paper in paragraphs
Gather more information and knowledge on the topic of discussion
Proofread the article before submitting it to ensure everything is okay, and there are no grammatical errors
Curate a superb introduction – your introduction should be catchy and precise. It should invite your readers to keep reading.
Relevant essay – as you create your summative report, ensure it is relevant and meaningful to the real world. A typical person should resonate with your paper.
A summative essay explains the main ideas of the reading material and evaluates them. To write an excellent summarizing essay, you must read the reading material carefully and take notes. You should also clearly understand the reading material and write your essay based on the material, not your opinion.
Need Help Writing Your Summative Essay?
Writing an summative essay is difficult, especially if you don't have much experience writing such essays. Even if you read the material carefully and take notes while reading, summarizing it right in your own words may not be straightforward. Supporting your thesis statement with evidence from the reading material can be even more challenging. If you are having trouble writing a summative essay, you could seek professional speech writing help.
Most students do not have enough time to complete their essays, and that is where the speech writing help comes in. These services are efficient since they use professional writers and tools to produce high-quality papers. You could talk to us at Gudwriter, and we will help you with the summative report.
Explore the best tips on how to write an explication essay.

Special offer! Get 20% discount on your first order. Promo code: SAVE20