Is it Illegal to Pay Someone to do Your Homework?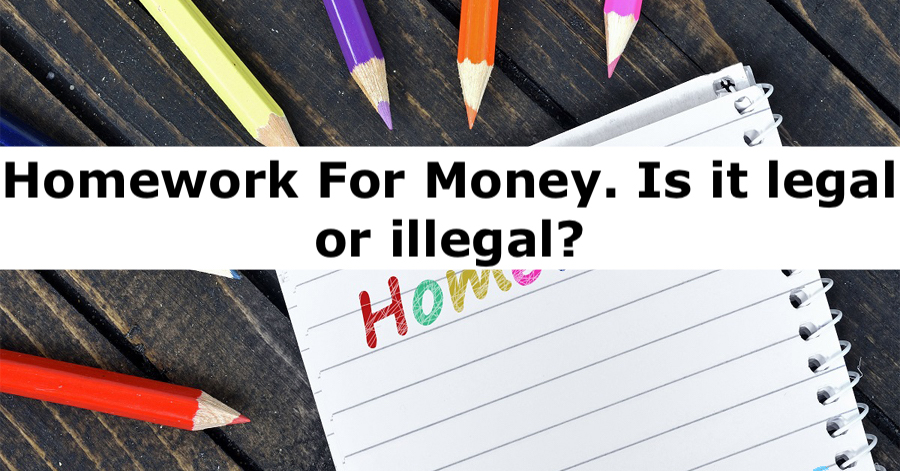 Most students are always in a dilemma when facing struggles to meet their deadlines and want to pay someone to do their Homework. Is it unethical? Is it illegal? Will I be punished if I am caught? These are the kind of questions that bother them. We will explain whether it is legal or illegal to pay someone to do your homework.
Elevate Your Writing with Our Free Writing Tools!
Did you know that we provide a free essay and speech generator, plagiarism checker, summarizer, paraphraser, and other writing tools for free?
Access Free Writing Tools
Is It Illegal to Pay Someone to do Your Homework?
Paying someone to do your Homework is not illegal. However, some institutions may consider it cheating or illegal. And it can lead to severe punishment. That said, many services are allowed and offer good homework help.
This is because many students struggle to balance their life and studies and need some task delegation.
Can I Pay Someone to do My Paper?
You can pay someone to do your paper. You should never compromise on quality when it comes to your report. The quality of your paper determines the kind of grade you acquire at the end.
Our teams of experienced editors and writers will handle your paper and guarantee you excellent results at the end. We understand that your life is complex, and you expect to excel in your studies, submit your documents on time, and get top grades, all while cooking, working, and paying rent. We understand it's hard.
Who Can I Pay to Write My Paper?
Talk to us for any paper writing service, and we will boost your grades. Gudwriter has seasoned writers who will do your paper and guarantee you A's at the end. Today, hundreds of groups and websites offer assignment help, but not all guarantees excellent results. Reach
Our expert tutors are equipped with comprehensive practical experience and subject knowledge to assist you in saving time and having good grades.
Is Paying for Homework Good or Bad?
Whether it is good or bad to pay someone to do your Homework entirely depends on the person answering the question. The answer is good for students who want to delegate some of their tasks to someone who has time and experience so they can focus on other issues, while bad for students who pay to get good grades without studying.
The following are the pros and cons of paying for homework help.
Pros of paying someone to do your homework
Ease of Solving Assignments
Assignments and tasks given by lecturers are sometimes tricky. Other times you are overwhelmed by class presentations, projects, practical's, and term papers, all working on a deadline.
In such a scenario, you can achieve more and create good cumulative scores when you engage in our professional's homework services during tight schedules.
Integrate Classroom Learning
Paying someone to do your Homework complements your classroom learning. Our expert tutors offer outstanding and quality work that can stand on par with many teachers and lecturers.
Though homework help services may cost you some money, it is worth every penny, as taking the burden away will give you peace of mind. Your mental health is crucial if you want your brain to function correctly. Many students cannot cope with workloads and hence pay for assignment help.
Your Homework gets a professional touch when you pay for homework help services from qualified providers like Gudwriter. We have professional writers who can handle students' assignments and guarantee good grades.
Cons of paying someone to do your homework
The stress of paying someone to do your Homework may not exceed the pressure of doing it yourself, but a considerable amount still comes with it.
For instance, what if the service provider fails to meet deadlines or disappears from the internet before submitting your work? These are enough reasons to keep you worried all the time.
Not all homework help service providers check plagiarism as Gudwriter do. Most companies take advantage of students not cross-examining the work to give them plagiarized assignments. Students end up being on the receiving end and risk punishment from the school.
Many homework help services don't provide good results. You may score poorly if you make a wrong choice when selecting your homework help services.
Not all institution takes assignment help lightly. Some will punish or expel you from class if they catch you. So, it is okay to learn your school policies before getting assignment help.
Get to understand if Blackboard can detect cheating.
What to Consider While Paying Someone to do Your Assignment
You should examine the following factors when hiring someone to do your assignment.
Pricing Policies of Assignment Service
You're the judge when it comes to pricing. This is because you understand the difficulties of your task and how much it is likely to cost. Before settling on an offer, evaluate various proposals and pick the finest.
Experience of the Service Providers
You need to hire an experienced person to do your Homework. Having your work done by professionals and experts will help you avoid mistakes that can lower your score. Furthermore, professional homework assistance will ensure they deliver your work on time.
Imagine paying someone to do your assignment, but you can't reach them when you need them because they are asleep. You should engage service providers offering quick and round-the-clock support when required.
At Gudwriter, we offer 24/7 homework help for any subject you may need assistance with.
Companies' Internet Review
A company review is crucial in deciding who to pay for your assignment. There are many companies and also scammers in this field. Therefore, you must choose a company with positive reviews from previous clients.

Special offer! Get 20% discount on your first order. Promo code: SAVE20