How to Write a Double-Spaced Essay and Score an A for it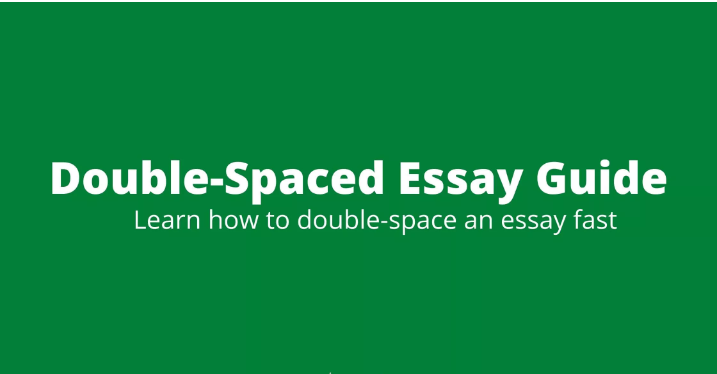 What Does Double-Spaced Mean
In writing, formatting is essential to improving readability and successfully communicating ideas. Double spacing is a frequent formatting strategy. Whether you are a student, a professional writer, or someone who interacts with written materials frequently, it is essential to comprehend double spacing. You should also assess how it might affect the display and readability of your work.
Elevate Your Writing with Our Free Writing Tools!
Did you know that we provide a free essay and speech generator, plagiarism checker, summarizer, paraphraser, and other writing tools for free?
Access Free Writing Tools
Double spacing is simply adding an extra line of space between each line of text. This gives the page a more open appearance and simplifies reading and editing. You can modify the line spacing in word processing systems through settings. For instance, the "Line Spacing" option in a Word document allows users to choose between single, 1.5, and double line spacing. In the majority of word processing programs, double-spacing is usually the default setting.
There are several reasons why writers utilize double spacing. Long passages of text may become easier to read, and it aids in maintaining the reader's attention on the key ideas. Double spacing can also be used to divide lengthy passages into smaller, easier-to-read portions. Most essays, reports, articles, letters, and more, use this formatting style.
What is a Double-Spaced Essay?
A double-spaced essay is an essay where you separate the lines by one inch around the article with no extra space between the paragraphs. A double-spaced essay should be on a standard-sized (8.5"x 11") paper with an inch margin around the document.
A double-spaced paper has 275 or 300 words per page, depending on the typeface. Here is a 2 paragraph double spaced essay example.
Double-Spaced Essay Format
It is essential to know how to format your document after writing. No matter the size of the paper, it is always possible to double space, but you should know how the program you have written your documents works. The most common programs students use are Word (Mac version) and Microsoft word.
For the Microsoft word
You need to highlight the text.
Open the page layout function at the top.
In the paragraph section, find a small black arrow on the lower left side
Click on the arrow to open a new window
Then open the "intervals and indents" function; if not opened.
Select the "line spacing," which is on the double list section
Click "Ok" to effect and save the changes
For Word (Mac Version), the instructions are as follows:
Highlight all text or selected lines
Click the inspector on the upper right corner (blue button)
A new window will open
Find a section called "Text" (labeled with a big "T")
Click on the interval section
Enter 2 for double spacing on the right side of the selection bar
Click "Ok" to save the changes
How to Set Double-Spacing on Your Computer
You can double-space all or part of a word document. Alternatively, some prefer to edit the document to spacing and format after writing, while others prefer keeping everything organized from the beginning, which means you write with double spacing from the start.
The following are double spacing steps on Word (Mac version) or MS Word Processor.
Documents on Mac Version
Use the following steps to double-space your document if you use the word mac version to process your pages.
To double-space a specific text, highlight the text.
Then click a blue button (inspector) on the right of your window.
Select the "T" or Text tab in the new window that pops up
Go to the section named spacing and write 2 into the box of the slide bar to the right.
On MS Word Processor
Follow the following space to double-space if you use a word document to write your essay.
1. Highlight the text you want to double space
2. Go to the paragraph section under the home tab, and on the bottom left corner, click the small arrow.

3. There will pop up a new window with different settings, including; spacing, identification, and general.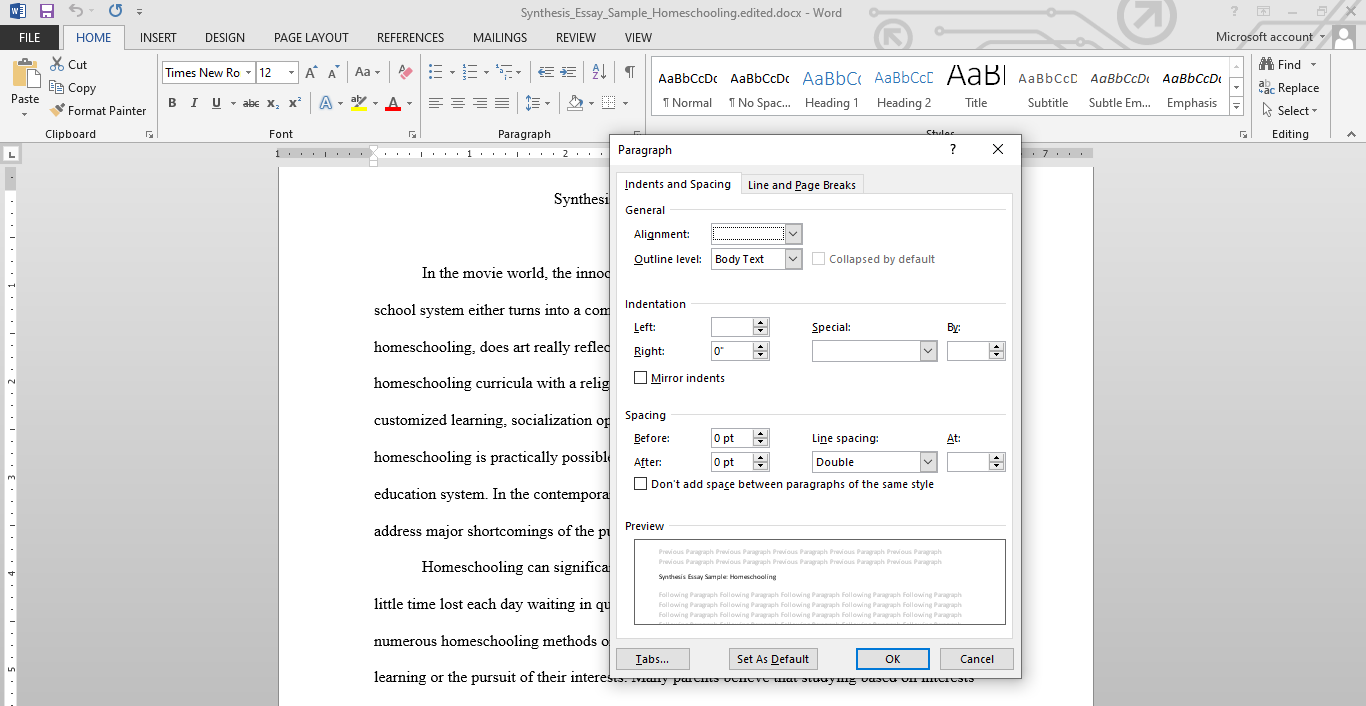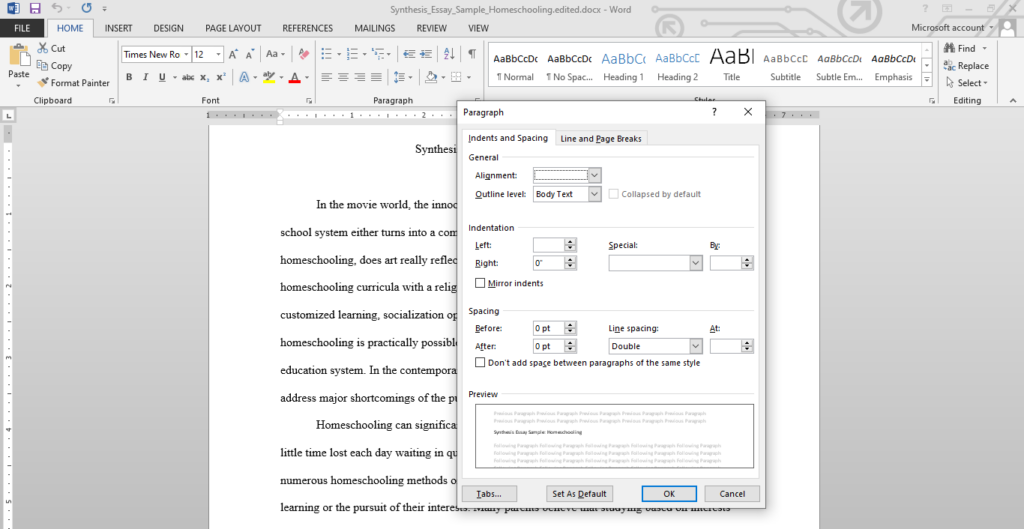 4. Click on the drop-down arrow on the line spacing
5. From the list, choose "double."
6. Click on the box "Don't add space between paragraphs of the same style."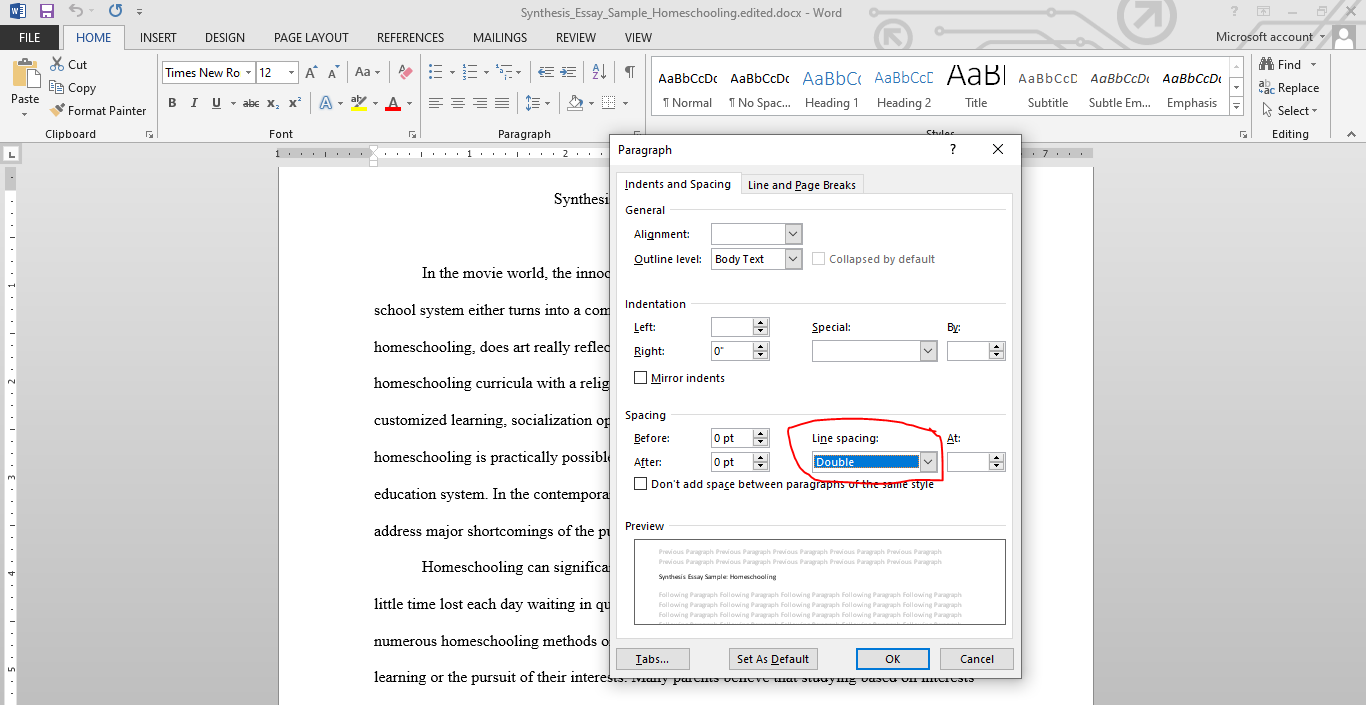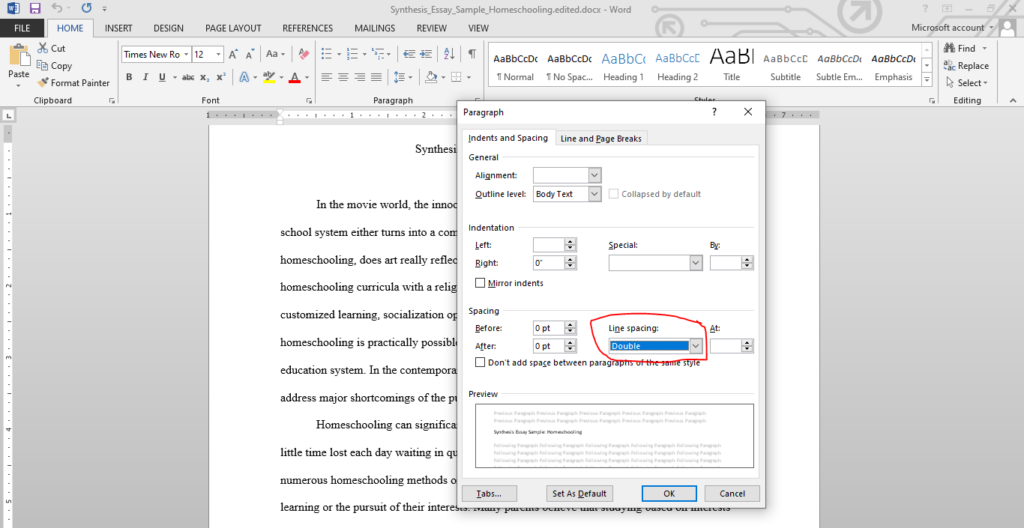 7. Press OK to save and effect the changes.
All Microsoft word processing versions use more or less the same steps when double spacing.
If you want to use the double spacing from the beginning when writing, you can adjust the line spacing on your Microsoft word processor toolbar.
Go to the paragraph section on the home tab and find the line and paragraph spacing button.
Click on the button to find more options

Select 2.0 for double spacing
Click OK to save the changes and double-space your document.
How to Write a Double-spaced Essay
You do not have to struggle when writing a double-spaced essay. The trick is to curate an interesting essay, just like you would for any other essay. Then, follow the right formatting style. By following the instructions below, you can ensure that your essay complies with the double-spacing standard and presents your thoughts concisely, readably, and expertly.
When asked to write a double-spaced essay, you must always start by carefully reading the assignment prompt. It enables you to analyze the question, generate ideas for a healthy subject, and select the top subject for your essay. Furthermore, you learn your article's spacing, font type, size, and word count. It is a crucial phase of essay writing.
You must read the guidelines, then paraphrase the query in your own terms, do some research, assess the potential essay ideas, and select a good topic. Choose a good and narrow topic based on your field of study. Choose a subject where you can easily get resources and genuinely want to write a paper. Select a topic that is relevant to the study area if you are free to choose your own topic.
Use appropriate materials
In an essay, you must cite all of your sources. First, forgetting to cite evidences in an essay can be viewed as plagiarism, which is prohibited in learning institutions and employment. To achieve scholarly rigor, you must keep track of your reference list and in-citations. Facts from sources that have been rephrased, cited, or summarized make essay paragraphs stronger. It improves the paper's logic, flow, and thesis statement support.
You should have considered the scaffolding of your article when creating or composing an outline or framework. An essay scaffold arranges readings, arguments, and ideas. Put your essay in order. Writers should back up their claims.
Instead of putting up a theory you do not agree with, support your claim with empirical data. Only make snap judgments or conclusions with sufficient evidence. If so, provide proof to back up your claim. Focus on what fascinates them because your article must speak to the reader. Engage readers from the title through the bibliography.
Have a good essay outline and structure
In addition to choosing the sequence of your arguments, ensure your essay is appropriately organized. A thorough article with a clear framework captures the interest of the reader. The writing process is also made simpler because everything is properly located.
An essay that is well structured will allow you to focus more intently than one that is hastily written. Such an essay (with poor planning) will likely overlook a few things. However, your chances of captivating your audience enhance when you have an essay framework. Thus, a well-structured essay is easy to read.
Why not begin with the body sections instead of the introductory like everyone else does? Your body paragraphs can be produced without the introduction because you have a working thesis. The writing process can be finished by developing the initial thesis into a final thesis depending on the justifications in the body sections, and then writing a captivating introduction. Once you have written your introduction, you may finish your essay by constructing a compelling conclusion that will leave your audience wanting to read more about it.
Examining vocabulary is different from the purpose of essays. It is an opportunity to present evidence that backs up your viewpoints. To win your teacher over, use straightforward language. Simplicity is necessary for writing essays. Write clearly.
Make your instructor's job easier by using clear language. They have no time to use a dictionary; and once they use one, you would annoy them and reduce their grades. Use simple language to communicate. The best writing is written in simple terms. Simple papers will do well when the proofs are given, organized, and flow smoothly.
Use short and long sentences
Your audience should be impressed by every assignment you write. An essay is more readable when it combines both short and large sentences. Simple, understandable, and concise sentences make it simpler to navigate.
Although it can be tempting to utilize complex sentences occasionally, they are run-on or unclear sentences and should be avoided. You should not be concerned about this when writing. However, cut long sentences with sparse yet intricate vocabulary when editing the document. Once more, it becomes straightforward.
Understanding how to employ short sentences effectively is the key to brevity, coherence, accuracy, composition, and clarity. So, practice frequently and employ this strategy to succeed in your essays. With such skill, you may persuade even the most difficult professor to give you the finest grades.
A perfect paragraph in an essay is equivalent to receiving an A+. Although majority of individuals struggle with it, it is not difficult.
Verify the coherence and cohesiveness of your topic sentences. When something is coherent, it has a good flow and a sense of unity. The transitions between your paragraphs should be smooth. A single order-related idea should be discussed in every paragraph.
Finally, the word count in each paragraph needs to be balanced. Remember that 80% of the word count comprises body paragraphs. Accordingly, the three body paragraphs should be spaced out to cover the same material if you are writing an essay of six paragraphs.
Edit and format your essay correctly.
It is challenging to write. You could feel worn out once you are done because it demands reading, research, and critical thinking. If you format and revise the paper quickly, you will make mistakes. Planning an essay is crucial to allow time for editing and polishing.
Take a break, and then spend some time reading, editing, and formatting your essay objectively. Concentrate on punctuation, grammatical, stylistic, and organizational errors. Ensure that the fonts and font type are appropriate, as well as the spacing. Our essay editing service is available if you find the process time-consuming and exhausting. Once everything is in order, ensure your paper is original, and submit it before the due date.
Double spacing vs. Other Types of Spacing for Essays
You can space your school assignment using three types of spacing: single, 1.5, and double spacing. You should know the spacing type required when writing your school dissertation, research paper, annotated bibliography, report, or essay.
Double Spaced Document or Paper
It is the most common type of spacing which involves selecting 2.0 spaces between paragraph lines without any other spaces between paragraphs. Most college assignments, theses, and dissertations are double-spaced.
1.5 Spaced Document or Essay
A 1.5-spaced paper has sentences or lines in a paragraph spaced from each other using 1.5 mm space and has no spaces between paragraphs.
Single spacing is typing that does not leave lines blank. A single-spaced document has a space of 1.0 between the lines in a paragraph, which creates little room for feedback, remarks, and comments. You should use single spacing only when the requirement says so.
However, whether your essay is on Mac or a word document, you can change the spacing of your paper to different spacing styles any time you need.
Pages vs. Spacing Chart
Below is a table that compares the number of pages and words to different spacing styles.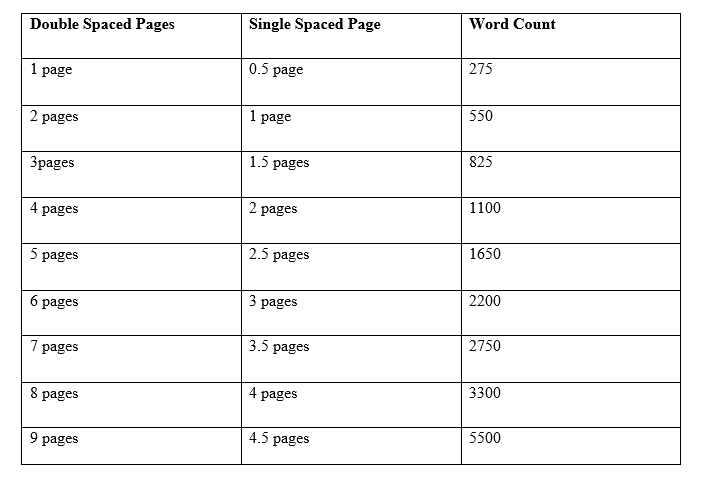 500 Word Example of a Double-Spaced Essay
There are many samples of double-spaced essays on the internet that will enable you to understand these essay types. Most of these samples have picture evidence, a format that helps your understanding. The double-spacing form is used mainly by book authors when sending a text to the publisher to allow enough spacing for error correction by the editors. The extra space allows the editor to make comments or remarks.
Also, students can use double spacing when writing their draft essays as it gives spaces for supervisors or teachers to comment and make remarks before a student can draft the final copy. For example, a student can use a double-spacing format for scientific text, which gives extra space to highlight any grammatical errors or minor flaws that need to be corrected.
Get a quality plagiarism free 500 words essay by using our AI powered essay generator.
Benefits of Double Spacing in Essays
The following are the advantages of using double spaces in your thesis.
Creates space for crucial notes
Sometimes you may want to include important notes when taking an exam or writing an essay, but the notes cannot fit in your document body without making it look unprofessional. But with a double-spaced essay, there is enough space at the end of each paragraph where you can write end notes or footnotes without disturbing the flow of the reading.
It makes your essay easy to read
A double-spaced essay means there are few words in a line. This makes it easy to read since you will not have to often move your eyes from one end of the page to the other. There are no line breaks in double-spaced lines to distract you from the flow of ideas, and it is easy to skim through the sentences.
Help emphasize important points
It may be challenging to notice when you have repeated a phrase or word using single spacing, making the content look repetitive. However, double spacing creates more spaces between repeated texts and phrases such that they stand out more prominently.
Double-spaced punction marks such as commas and full stops are more visible than when single-spaced. It lets the reader know where a sentence starts or ends without rereading previous phrases or sentences. It is more crucial, especially if the reader is learning English, as they will see where there are commas and where sentences end, and also easy for proofreaders.
It makes your writing look professional
Most readers want a document that is convenient and easy to read within a short period. Your writing skills should look professional and impress the reader at first glance. You can achieve this by double spacing, as it makes the document easy to read and creates an impression of professionalism.
Explore an example of a double spaced essay about how to tame a Wild Tongue – summary and response.
Need Help with Double-Spaced Essay Writing?
Students often face time constraints in balancing academic and life activities. If you are in this category, you can seek assistance from Gudwriter, and you will have your double-spaced essay written within the shortest time possible. We have a team of seasoned writers experienced in different subjects to craft your essay.
Your work quality is our top priority, and that's why we have professionals with the necessary education to handle our client's questions. Whether it is an admission essay term papers, scientific projects, or any double-sapced essay, we will craft your essay from the beginning to the end. Simply reach out to our admission essay service and submit your essay requirements and expect a quality paper.
Our expert writer will handle your projects as you focus on other vital things. We customize your essay and make any edits required until you are satisfied. Our prices are reasonable, and we never compromise on the quality and deadlines of your work.

Special offer! Get 20% discount on your first order. Promo code: SAVE20