How Long Does it Take to Write an Essay?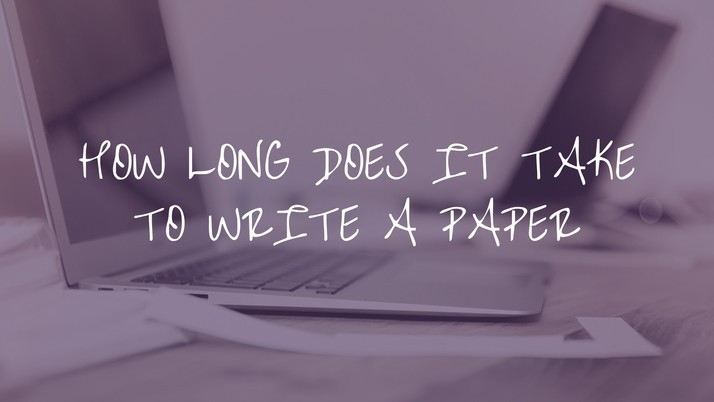 While timelines differ depending on the student, writing an essay is difficult. You don't open a book and start writing immediately; you need to brainstorm, research, draft an outline, edit and ensure you cite your work correctly. A good essay should be detailed and have the correct information.
Elevate Your Writing with Our Free Writing Tools!
Did you know that we provide a free essay and speech generator, plagiarism checker, summarizer, paraphraser, and other writing tools for free?
Access Free Writing Tools
Nevertheless, managing your information overload is one secret of writing a good essay. You should recognize how long it will take to finish your thesis, as it will enable you to divide the work according to the days you have before the deadline.
Read on to find out how long it takes to write an essay.
How Long Does it Take to Write an Essay?
There is no specific timeline for writing an essay, as many factors determine how long it takes.
The longer the essay, the more time it will take to complete. For instance, it will take you longer to complete a 3000-word report than it would take on 500 words. You need to answer many questions to know how long it will take you to complete an essay. For instance
How much research do you need to do?
Do you have the resources necessary to write the essay?
Does the essay require citations?
Do you write naturally, or do you struggle on some occasions
What do you know about the topic?
After figuring out the above, the following table should help you understand the expected time to complete an essay, depending on the word count.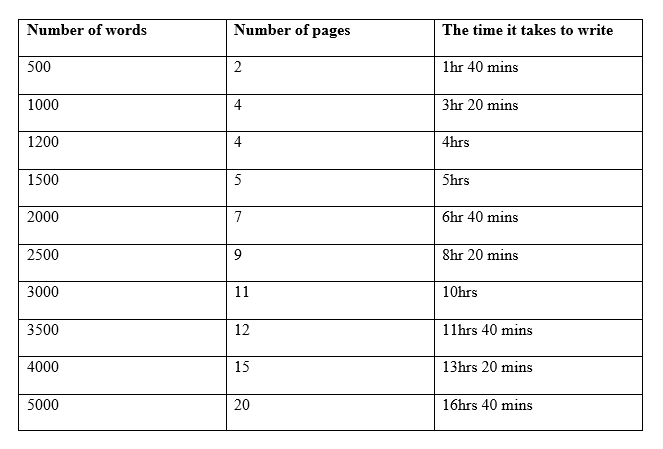 It is important to note that the above data relate to writing a standard assignment essay. The time may differ when writing other essay types.
Factors That Determine the Time you Take to Write an Essay
As stated earlier, several factors determine the time you take to complete an essay. They include:
Generally, technical topics are challenging to write and will take more time. You should choose the right topic if the instructions allow you do so. A tricky subject will become unimaginable as you progress and lower your score.
Before writing on a new topic, do thorough research to understand all the facts so you can write quickly.
Seasoned writers will always complete their essays faster the newbies. This is because your writing skills sharpen as you write more.
There will be a clear difference in writing between a person with five years of experience and one with three months of experience. The experienced one will deliver the essay faster than the others.
You need a piece of mind to research your topic and understand it before you begin writing about it. However, you will affect your productivity if you are working under pressure.
The pressure may come from handling many tasks or assignments that you have to meet strict deadlines. When you write your essays hurriedly, you will meet the deadlines but compromise on quality. Avoid this by using our AI powered essay generator.
Most writers are faced with barriers and challenges that dictate the pace at which they write. One of the significant challenges they face is dealing with psychological barriers.
You are more likely to start procrastinating or dragging when negative feelings or emotions overwhelm you. If you encounter such barriers, there is no chance you will finish a five-page essay within an hour.
Your typing speed is one crucial factor determining how long you will take to write an essay. If your typing skills are perfect, it will take you less time, but if you are a beginner, it will take you more time to complete the essay.
How Does Writing Process Affects the Time you Take to Write an Essay
Writing an essay is a process, and how you apply that process defines the time you take to complete your paper.
The process of writing an essay involves three main stages which are:
This is the first stage, where you choose the topic, do detailed research to familiarize yourself, pick a provisional thesis statement and develop an essay outline.
For instance, if you are writing a 5-page essay, you may follow this guideline at the pre-writing stage.
Brainstorming – 2 hours
Outlining – 1 hour
Research – 5 hours
Writing will be easier if you have researched your topic well and written a detailed outline. It is where you develop your arguments in the essay body, give evidence, and write a conclusion.
The length of the paper will determine the time you take to complete it. If you have all the necessary information and your typing speed is good, you will need 1 hour to complete a 500-word essay.
We can divide writing into the following stages:
Title – 20 minutes
Introduction – 10 minutes
Body- depends on the article's length
Conclusion – 20 minutes
You cannot just hand over your work after writing without proofreading it. You revise your essay to check content, spelling, formatting, grammar, and organization.
This is how to break down your post-writing time
Editing or rewriting – 1 hour
Proofing – 1 hour
Formatting – 30 minutes
The above steps are applicable whether you are writing a research paper, a term paper, a case study, or any assignment.
Few Tips for an Excellent Essay
It is boring to write challenging essays, and school life becomes more bearable the sooner you do away with them. Here are some tips you can use:
It is okay to request essay writing help online from experienced writers like our writers at gudwriters.com. If you are struggling to meet deadlines or have loads of work, you can pay someone to write my speech for me as you concentrate on other issues.
Understand your instructors demands
Different schools and lecturers may have contrasting requirements on how they want the essay to be done. You should understand these demands and stick to them when researching and writing your essay.
It is always a good idea to start your thesis early so you can have enough time to proofread and finalize your essay. You should never assume there is enough time to complete an essay.
You should be equipped with an excellent example of the work you want to do. Get a sample text to guide you but do not copy-paste other people's work.
It is crucial to edit your work when you are done writing. Proofread to eliminate the minor errors you may have missed earlier and identify the areas you need to improve.
It indeed sucks to write an assignment, term paper, or essay. You must prepare, write and revise to say you are done with writing an essay or a term paper. Additionally, these essays have strict deadlines that you must meet. It is, therefore, crucial to follow the points discussed above to write a comprehensive paper.
Informative steps on how to write a persuasive speech.

Special offer! Get 20% discount on your first order. Promo code: SAVE20