How to Write a Descriptive Essay, with Outline and Examples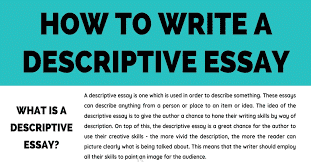 In your studies, there are many times when you will be needed to describe a place, object, person, or experience. In this post, we'll give you the best way to write a descriptive essay in an efficient, informative, comprehensive, and excellent manner.
Elevate Your Writing with Our Free Writing Tools!
Did you know that we provide a free essay and speech generator, plagiarism checker, summarizer, paraphraser, and other writing tools for free?
Access Free Writing Tools
Are you burdened by various duties and finding it difficult to balance work and school and asking yourself if you can get get help? The answer is yes, you can pay someone to write my case study and guarentee yourself good grades as you concentrate on your job. Don't stress yourself then end up getting poor grades whereas you can seek help from Gudwriter.
What is a Descriptive Essay?
A descriptive essay is a brief piece of writing that aims to paint a vivid picture of a situation, person, object, or place in the readers' minds. The writer describes an object in such a way that the audience can have a full account of the happening. This genre encourages a writer's abilities to come up with a report of experience or object. It gives the writer the freedom to explore creativity and linguistic skills.
After reading the essay, the audience must feel like they were involved in the experience. Remember, you become a pro if you can successfully create an impression of whatever you are describing in the reader's mind.
What do you Need to Write a Descriptive Essay?
1. Topic
It is always important to brainstorm ideas for the essay. You can choose to describe a person, place, or event that you know well. If you want to tell a person (it can also be a fictional character), know their traits well to define them clearly. You will then need to master adjectives to explain how they talk, look, walk, think, or behave.
When you are describing an emotion, be sure to state it. It could be anger, rage, love, or excitement. Using your experiences to write such an essay would be ideal as it gives you accurate real-life ideas.
2. Your senses
Once you have chosen what you need to describe, list down details about it. When doing this, engage your thoughts and five senses. For instance, how it looks, feels, smells, tastes, or sounds. You can do this by merely drawing five columns on a piece of paper or text software. Each column should represent a sense. Then, use them to note down every attribute of the subject. This information will help you write a concise-yet comprehensive descriptive essay.
For instance, under sound, you can state things such as:
Her soft melodious voice drove me wild.
Bang of the door behind him
Clack of her stilettos on the smooth glassy floor tiles
Descriptive essays examples;
Process of Writing a Descriptive Essay
Writing a descriptive piece is not something that you wake up and decide to do. For it to be a success, you must understand how how to write a descriptive essay and ensure that that you follow specific steps to get the background of what you are about to write.
Before you write the actual essay, you need to be prepared with enough material. As shown above, it's essential to have the information necessary to develop a first-class descriptive essay. Your essay needs to be organized in a forthright structure with the following sections: outline, introduction, body, and conclusion.
1. The outline
One of the surest ways to stick to the topic and develop a quality essay is to have an overview in place. The sketch is the framework upon which you build your essay. It helps you to follow the instructions given by your tutor- if it's an assignment. In most cases, high school descriptive essays require to be written in five paragraphs. This restricts the information provided in each section.
The first needs to be an introduction and the fifth a conclusion. The rest should form the body and must have a thesis statement at the beginning.
In college, students have more freedom when it comes to the length of their descriptive essays, but the paragraphs' structure remains the same.
The outline is the backbone of the essay.
It forms the skeleton onto which the ideas are attached. The outline makes the article's ideas to flow and the overall piece to look neat. Below is a summary of a standard descriptive essay's outline.
Title: My Mother
Paragraph 1: Introduction
Paragraph 2: First idea
Paragraph 3: Second descriptive idea
Paragraph 4: Third idea
Last paragraph: conclusion
Sample of a Descriptive Essay Outline
Title: Why you should consider visiting the North Carolina Mountains
Introduction
Where the scenery is found
A brief history of the place and the impact it has on the society
Thesis statement: talk about how people view it and how the site has any views and activities that the readers will love
Body
Event one of the things that people will enjoy doing there; the topic sentence explaining what it is, how it is done and everything beautiful about it
Point two
Point three
Paragraph four and subsequent paragraphs
You can write as many events depending on the number of scenes you wish to include in your essay.
Conclusion
Restate the thesis, e.g., "as shown through the numerous activities found in the North Carolina Mountains, there is no doubt that it is an excellent getaway place for friends and families. Restate the pros of going there and the directions.
2. Introduction
How to write an introduction
The introduction should be active. The entire article stands onto this foundation. So, aim at getting the attention of your readers. Set the stage and introduce the subject of your discussion in an eye-catching style. Suspense could be one of the best ways to do this. A good introduction will make the readers want more, while a bad one will put them away.
If you are writing for academic purposes, the tutor will likely award you more marks if your introduction is flawlessly enticing. If you want to write an A-grade introduction, you had better stick to the right structure.
First sentence: Make it strong enough to grab your reader's attention.
Subsequent sentences: Use a creatively descriptively summary to introduce the essay.
Last sentence: Include your thesis statement. The thesis statement is a single statement that gives the objective of the essay.
Sample introduction paragraph of a descriptive essay
If he were still alive, I'd have probably included a video of him in this post. He was charming, but, sadly, there's little I could do to keep him alive. Simba wasn't like other dogs. He had the commanding eyes of a lion- they scared everyone, yet they always gave me the courage and esteem that I was secure with him. The light brown long shafts of hair around his head and neck made him more of a lion than a domestic pet. I was addicted to his company, and he knew it. His sharp memory and great love made him a genius, and it gave me great joy. Can all I remember about him fit in this piece?
Pro tips for introducing a descriptive essay:
Introduce the topic of discussion. It should be relevant to the subject you choose
It should provide a background. The first paragraph gives the foundation of what follows.
Close by alerting the readers they're getting to the next part and have your main stand about your writing.
State a hook or an eye-capturing statement that will keep your audience reading. It could be a question, humorous comment, or 'food for thought.'
Keep your sentences short and sweet!
Appeal to the readers' minds and emotions.
3. Body
How to write the body of a descriptive essay
The descriptive essay is made up of strong ideas that are described in the body section. Write as many sentences as you need- this depends on the number your tutor has instructed you. The standard number of sentences in a paragraph is six, aiming to support the thesis statement. The first sentence of the paragraph states the idea. It is called the topic sentence. Then, the subsequent sentences help the topic sentence while the last summarizes the concept. Once you have exhausted describing an idea, go to the next paragraph and start another.
The body is longer than other parts of the essay. That is why you must use transition words to link your sentences and paragraphs. Transition words signal that you are leaving one idea and heading to another. Conjunctions are the best transition words. If you want to join two contradicting statements, you should use conjunctions such as 'however.' But, when you want to add to a point, use 'also' or 'in addition to.'
Sample paragraph of a descriptive essay
Simba's mind was sharp, and he was creative as much as he was accurate in memory. He took a few days to adapt to my family and friends. But, he'd easily recognize when they stepped too far. If anyone became violent against me, he would suddenly become protective, and a simple stern look at him or her or a groan would send his message clear. His memory startled me, too.
I loved to walk with him into the woods for adventure, and he'd remember the way home even when I couldn't. The German Shepard had intuitive ways of helping me do my chores, and; I can't forget the capabilities of his brain. Probably, his mind was the reason he had such an adorable character.
Pro tips of writing body paragraph sentences in a descriptive essay
Ensure that it has a topic sentence. This should appear as the first body sentence.
It is recommendable to use transition words such as 'firstly.'
Make it interesting. Make an excellent first impression if you want to keep the audience entertained. Start each paragraph with an exciting point.
Appeal to the readers' senses as much as you can. This is what makes the story enjoyable. If you can engage their emotions such as the feel, taste, smell, and make them feel like they are involved in the story, you are on the right track.
Ensure you are operating on facts. Do not just write a story for the sake of it. Include the background of the item being discussed and ensure that it is all factual
Each sentence should relate to the other and the main topic. Make sure you remain relevant to the introduction.
Every paragraph should be at least three sentences long.
Every sentence should lead to the other, and every paragraph to the other. Use cohesion and coherence markers.
For a descriptive essay, you have to narrate situations, objects, or people vividly. Entice, pull, and drive the reader into your story. Use adverbs and adjectives wisely to achieve a vivid description. The descriptive essay needs to accomplish the same feeling and conviction as 3D Glasses do in a movie hall!
4. Conclusion
How to conclude a descriptive essay
A descriptive essay without a conclusion is like a bottle without a lid. The conclusion forms the last part of your article, and it needs to be well written. It's the last chance you have to make the reader find your work impressive. Some tutors rely on the conclusion to grade their students. So, it would help if you crowned it up with a first-class finish.
It's simple to write up the conclusion. First, you need to ensure that it lies in its paragraph. It's advisable to have a single paragraph in the conclusion part unless your tutor has guided you differently.
Then, signal the reader that the essay is ending. You can use 'to sum up' or 'to finish' or 'in summary' although it is not compulsory to do so. Do not write any new idea in conclusion but instead, summarize those you've already written.
Get insights on the challenges to the fight against pollution globally.
Tips on how to end a descriptive essay
Don't add any new ideas here.
Stick it in its paragraph
Restate the topic sentence
Sign out
You may have a call to action for the reader. E.g., ask a rhetorical question, etc.
A descriptive essay conclusion sample
Without a doubt, I get nostalgic every time I remember Simba. His energetic, athletic body that allowed him to jog with me every morning still lingers in my mind. I can't help but miss the passionate hugs he'd give me whenever his telepathic senses signaled him that I was down. His cute-yet-fierce eyes that shown security on my paths will not be forgotten any time soon. It's depressing that my dog couldn't live as long as I did.
A+ Grade Tips for Writing a Quality Descriptive Paper
Take time to come up with the perfect subject matter.
Use precise language with carefully chosen words.
Use vivid language.
Be organized
Master the use of metaphors, similes and adjectives and adverbs
Revise your work after writing. You can read it aloud or ask a friend to assess it.
Try to review the article practically.
Read it around to a friend and see if they visualize what you are describing.
Descriptive essay sample; summary and analysis on how it feels to be colored.
Mistakes to Avoid When Writing a Descriptive Essay
From the guide above and a descriptive essay example about the beach, it is clear that descriptive essays are pretty easy to write. However, while it is an easy job, there are mistakes that you can make that will cost an A Grade.
1. Ignoring metaphors and similes
Descriptive essays are intensive with these linguistic tools. Metaphors and similes will give the reader a more in-depth view and understanding of the subject. Comparing subjects is a smart way of doing description, and missing the two tools in your paper will weigh down its impact on the reader.
2. Using unreliable sources or references
References play a vital role in supporting your ideas. Also, it adds credibility to your work. Not only are you required to use trusted references in your essay, but you are also expected to organize it correctly, as per your professor's requirements. Citing the sources of the information you provide in your essay will also help you avoid penalties related to plagiarism.
3. Choosing the wrong topic
Selecting an inappropriate topic will be the beginning of an end. The topic you select affects the flow and mood of your essay. Choose a topic that can be researched and can draw the interest of the readers.
Tips to Writing an Excellent Descriptive Essay
What does masters cum prolific writers like Shakespeare, Mark Twain, Charles Dickens, and Stephen King have in common? If you read a lot, you will know that writers, among others, have mastered the technique of descriptive writing, among other things. These writers are not only meticulous in detail, but they also draw their readers into their works.
Well, even in schools, descriptive writing skills are essential. Descriptive essays are some of the most frequent assignments given to students. Teachers will usually ask you to describe an object, image, event, place, or person, among others. Although the task might seem easy at first, you might find yourself stuck, with no idea how to make your essay exciting and detailed at the same time.
To overcome such challenges, the following are some pointers to producing a descriptive essay that will earn you good grades and make you a pro writer.
Why a Descriptive Essay?
First of all, you need to know what a descriptive essay is all about. Descriptive essays are essentially meant to portray your ability to observe and provide a vivid image or visualization of something through writing. The main options often provided for a descriptive essay include:
Place
Person
Object
Experience and
Memory
Do not let the magnitude of the requirements provided for a descriptive essay intimidate you. Keep in mind that the paper's objective is for you to create an overall, comprehensive, and well-rounded mental picture of what it is you are trying to communicate.
With the above understanding in mind, observe the following simple steps, and you will produce an excellent descriptive essay:
1. Choose a specific object or matter for your essay
This may seem obvious if you are expressly required to describe something. However, you might be asked to make a general description, for instance, of a city, street, famous person, and place, among other things. In such a case, it wise to narrow down the subject of your study to specific entities. For instance, if you are asked to describe a famous person or a city, you can choose Michael Jordan or Las Vegas, respectively.
If it is possible to have direct contact with your object of description, you should do that. For example, if you are in the US, you can decide to visit Las Vegas. Otherwise, you can do extensive research about what you have been asked to describe.
If you are having a hard time choosing a specific matter for your esssay, we have a list of descriptive topics to choose from.
2. Organize your details carefully
During your research, you need to be thoughtful and particular about the dominant observable details that you will include in your essay. Make sure that you can support your observations and impress them on your readers.
Your essay should be organized in the conventional manner of an introduction, a body, and a conclusion. To ensure that the flow of information in your essay is streamlined, you can structure the paragraphs in chronological order. Otherwise, you can ensure specific transitions between your observations, whether specific or general.
3. Make your essay as vivid as possible, eliminating any form of ambiguity
Your descriptive essay's effectiveness will rely in no small degree on your ability to draw a clear mental picture in your readers. For instance, if you are writing about a person, you can describe their traits, sensibilities, or what makes them unique or a role model, among other things.
A practical method of making your description impressive in your readers' minds is using descriptive devices such as appealing adjectives. You can also include examples or analogies to add life in your description.
As a rule, you should avoid using descriptive adjectives, for instance, beautiful, awful, bad, or good, among others. More often than not, readers find the most effective representations of things through the use of their senses. In fact, touch, smell, sight, taste, and hearing are five ways that the brain of a human being receives information.
In order to make your description of something as useful as possible, it is advisable and significant that you put into consideration and appeal to all the five senses. In other words, exploit the sense and sensory particulars to make a description of how your subject looks, sounds smells, or even tastes like.
4. Revise and edit your essay
It is sometimes easy to overlook some minor details or mistakes in your essay drafts. Therefore, the best thing to do is take a break once you have completed writing and then revise the paper after some time. In this way, your mind is more relaxed, and you are able to see some things that you might need to adjust or change. Grammatical and syntactical mistakes are also easier to catch this way.
Also, look out for irrelevant phrases or words that you might have used in the descriptive essay. These might make you sound bombastic and ostentatious to your readers, a factor that might cause you to lose interest and credibility in your readers.
You can always prove the effectiveness of these tips by applying them. Remember that practice, practice, and practice will determine how good you become in writing a descriptive essay.
Mistakes That Can Affect Your Descriptive Essay Score
Descriptive essays are essential elements of academic requirements in college. This means that they cannot avoid them as much as most students do because they tend not to get the best scores. Well, it is best to bring to the attention that they often make mistakes that make them not to get the best scores. Here are some of the mistakes that you need to avoid.
1. Writing a random conclusion
You should pay as much attention to the conclusion as you do to other parts of the essay. Arbitrary conclusions should never be used in descriptive essays. It has to be relevant to the essay. The conclusion is the part where the author comes clear on his or her point, and writing an irrelevant conclusion will only confuse the readers. Make your conclusion clear and engaging to give your essay a good ending.
2. Not having a structure
Some students think that just because it is a descriptive essay, there is no particular structure that needs to be followed. Well, just like all the other essay types, an illustrative needs a good structure and a flow of ideas, with every paragraph exploring an idea fully.
Never submit your essay without proofreading it and running it through a plagiarism checker.
Write a Descriptive Essay Like a Pro!
You now know how to write the perfect descriptive essay. You can practice by writing about your dog, parent, or best friend. Or, you can describe the weather or a picturesque scene you saw using our free essay generator. Following our format will place you on the path to success. If you want any help with your descriptive essay assignments, talk to us now!

Special offer! Get 20% discount on your first order. Promo code: SAVE20