How to Write an Explanatory Essay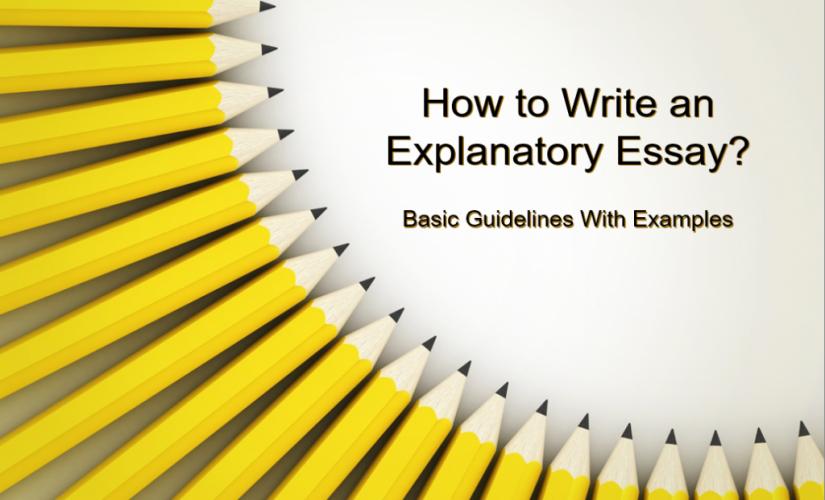 What is an Explanatory Essay?
An explanatory essay is a type of writing where the author offers their point of view or perspective about a certain issue, subject, occurrence, or circumstance. It's important to note that explanatory essays are also expository essays, which means their purpose is to "show the reader why [the topic] happened in this way."
Elevate Your Writing with Our Free Writing Tools!
Did you know that we provide a free essay and speech generator, plagiarism checker, summarizer, paraphraser, and other writing tools for free?
Access Free Writing Tools
The purpose of an explanation essay is not to systematically explain the topic, like a history essay, but to show the reader why something occurred and answer their questions as to why certain things happened.
An explanation essay is a personal take on a specific wave in contemporary society. The author may accept the given topic of interest or begin by questioning it and then offer an overview of the subject's meaning and importance.
This article will teach you how to write an explanatory essay about a topic you are interested in.
Types of Explanatory Essays
The kind of expository essay you want to write depends on your goal as a writer. There are many types of explanatory essays to choose from in this case. They include:
1. Cause and effect
You must explain both the causes of an event and its effects in cause-and-effect expository writing. This kind of essay focuses on the results or impacts of a certain event. They could be favorable or unfavorable.
The cause-and-effect essay also makes the reader aware of the relationship between the two topics. The major objective is to show the cause-and-effect link between the two notions and to offer supporting evidence. Although based on assumptions, the results in the body paragraphs must be true and accurate. If the author makes unsupported assertions, they will be accused of being biased.
2. Comparison and contrast
In this writing, the author compares or contrasts two ideas or events to show how one is superior to the other. The creations of an explanatory essay usually involve a comparison between two things that are strikingly similar in some ways but vastly different in others. This contrasts the two things and clarifies how much better one thing is than another.
The main objective of the comparison and contrast essay is to emphasize the differences between things that are alike. The author will use specific evidence and examples to support his claims in this piece.
The primary purpose of the comparison and contrast essay is not to prove a point or explain an argument but to talk about how two ideas or events differ.
3. Problem and solution
In this essay, the author takes an issue or problem along with its corresponding solution and explains them in detail. The resulting piece suggests to the audience a way to address the given problem and seeks to offer a solution for it.
The main objective of a problem and solution essay is to show how a given problem can be resolved. The author presents their perspective on not just one but several ways to solve a certain dilemma. Throughout their explanation, they provide specific evidence and examples contrary to their position on how best to handle the matter at hand.
4. Process
In this expository essay, the author outlines the underlying process or steps needed to achieve a certain result. For example, they might explain how they can complete proposed tasks more efficiently.
Their main objective is to make their readers understand how a task should be completed. The author also offers specific evidence and examples for readers to understand how a certain task would be better performed correctly. The procedure of the subject can also include the benefits or disadvantages of each step taken during the process.
5. Classification
In this essay, the author classifies their subject into one particular category. This classification can be based on the topic of the essay or the work performed by a certain person or group. The main objective of a classification expository essay is not to classify things into different categories but to classify them based on their type or usage.
This essay typically looks at the same subject under different categories. It seeks to explain the difference between one classification and another. For example, a college professor might explain that their subject's type of material is used in different ways as opposed to other types of material.
6. Definition
In this writing, the author defines the subject by explaining its meaning. The author should be able to precisely define the definition topic of interest and provide a valid reason for the audience to accept their definition.
The author's main objective here is to show how their subject can be clearly defined based on certain characteristics. This writing does not have a simple answer or solution, but it's designed to provide a clear reply to those who seek or seek to understand the topic better. It explains the significance of certain things and why they are important
Explanatory Essay Format or Outline
The length of the topic and the information you are attempting to convey will influence the outline of an explanatory essay. However, depending on the explanatory essay pattern, the average essay tends to be one or two pages long, making the total essay five paragraphs long.
The explanatory thesis and the topic of debate will be introduced to the reader in the introduction. The following paragraphs will support the thesis statement with details, reasoning, data, etc. Last but not least, the conclusion should provide a broad ending statement while summarizing the primary ideas of your essay. The outline of your expository essay should be sth like this:
Introduction
A hook; a thing that draws the eye
Background data that presents all sides of the debate
State your thesis
Body
Should have Three paragraphs
Use a topic sentence to indicate the initial point being made
Use your sources to support this topical statement
Explain the supporting facts and relate them to your claim
In each paragraph's conclusion, restate your thesis and discuss its significance
The next paragraph should flow naturally from the conclusion
Conclusion
Restate the thesis
Include a summary of each of your essay's arguments and topic sentences
Add a conclusion to the essay and leave the reader with your overall opinion
A proper outline will be crucial in constructing and organizing your ideas in a systematic manner and thoughtful flow. If you have an outline but stuck on how to go about your essay or you need an essay with an outline but you are stranded on how to go about it, you can seek help from an English assignment helper from Gudwriter who will provide a quality essay along with an outline.
Tips on How to Write an Explanatory Essay
The point of an explanatory essay is to analyze the issue at hand. You must figure out what your audience wants and needs to learn about the topic.
These are some helpful hints on how to write an expository essay:
1. Choose a topic that interests you
The first thing you should do before writing an explanatory essay is to choose a topic that interests you. Concentrating on your writing and finishing it if you find the work interesting or important is easier. There are many explanatory topics to choose from depending on your level of education and the subjects you have covered in class.
After choosing a topic, examine it carefully. Consider your audience and determine if they have prior knowledge of the topic. Decide how long you think it will take to produce a well-researched paper on the subject.
2. Look for relevant sources
The second step is to ask where you will get the necessary information. You should research the topic to find out what you need. In general, finding credible and reliable sources is important. To gather enough information for your essay, revise your writing plan and set a deadline for your project. Assemble a list of resources you will use to get help, such as books and websites, and choose the ones you think are appropriate for your subject.
3. Come up with an outline
The outline will show how your paper will be organized into separate paragraphs with two or more sentences.
Examine your notes and other sources used in writing your outline. It must include the most important facts and details related to the topic. You can write new details or modify parts of the outline. The outcome should be a complete, organized list of everything you want to cover in your essay.
4. Review material and start writing
You should now put all your notes into writing. The essay must be written in a way that captures the attention of your readers and helps them understand what you're trying to say.
Review the material, checking for errors and ensuring your writing flows smoothly from one topic to another. You can also discuss your essay with others outside your class to ensure it has no problems.
Using proper grammar, spelling, and vocabulary for each of the sentences in your paper is an important part of writing an expository essay.
5. Make use of transitional and linking words
Transitions help your readers understand that one idea or fact is related to another. Connecting ideas to each other will determine if your essay is coherent and useful.
You can choose from several words or phrases when coming up with transitions. Some examples include, however, therefore, and as a result. Additionally, you should use synonyms for the same word, like subsequently or additionally.
A linking word can be a word such as "also" or "next," which will bring both ideas together and explain why the topic is important and what the current topic is about.
6. Revise Your Essay
Proofreading is the last step for you to do. You should check for your essays' spelling, punctuation, and grammatical errors. Making sure your writing is free from errors will make reading your essay more interesting. Make use of a summarizer tool and a paraphrasing tool to accurately edit your paper.
Remember that informative essays are one of the students' most common assignments in school. It's important to know how you can write an effective expository essay that answers all relevant questions about your topic and provides relevant suggestions for future use.
Now that you know how to write an explanatory essay, you can start planning the structure of your paper. As you are writing, keep track of the main ideas in your notes or outline so that you can use them when writing your conclusion paragraphs and thesis statement.
Get insights on how to write a narrative report.

Special offer! Get 20% discount on your first order. Promo code: SAVE20