How to Write an Interpretive Essay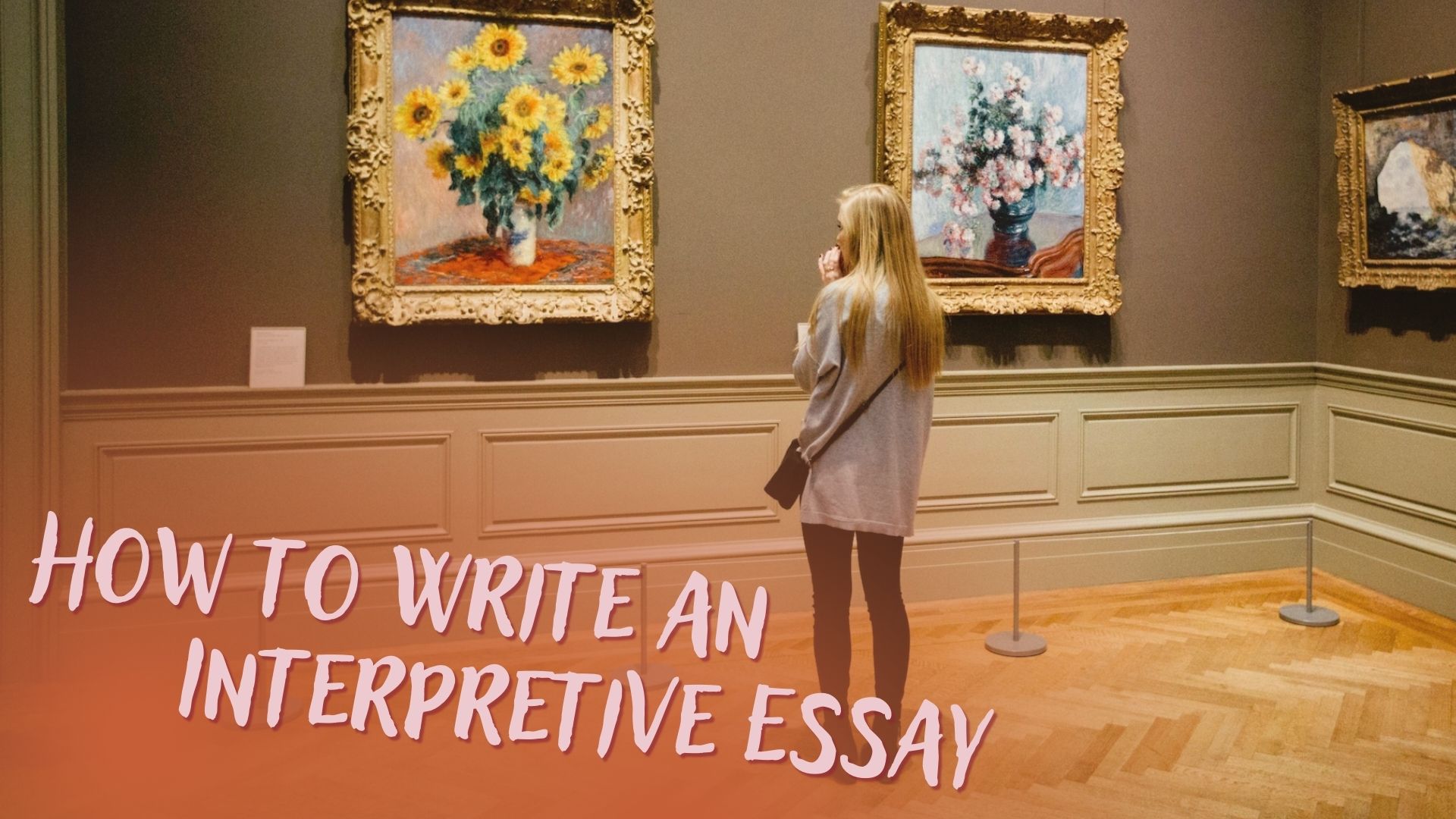 Interpretive essay writing is a challenging task. It requires you to analyze, synthesize and evaluate ideas and arguments instead of simply summarizing them. In other words, you must understand the topic and convey your understanding.
Elevate Your Writing with Our Free Writing Tools!
Did you know that we provide a free essay and speech generator, plagiarism checker, summarizer, paraphraser, and other writing tools for free?
Access Free Writing Tools
Writing an interpretive essay will force you to read more carefully, think critically about what you have read, and express your thoughts in a coherent and organized manner. These skills are essential for all future academic endeavors and workplace environments.
Whether it is part of an admission requirement or a class assignment, chances are you will be asked to write an interpretive essay at some point during your academic career. Read on to find out more about what these essays are about and how you can tackle this challenge with confidence.
What is an Interpretive Essay?
It is an essay where the student has to interpret another piece of literature. The literature could be an essay, book, poem, or play. This essay can be about something other than any element you think of. You should pick one or two elements that you focus on.
However, if the instructions give a specific prompt, that is what you need to focus on. Most students need help finding what they must write about in the essay. The trick is to find something interesting such as a character, certain theme, or use of metaphors. Once you have selected that broad topic to handle, trickle down to the basics until you complete the essay.
Remember that an interpretive essay requires genuine interest and profound knowledge of the piece of literature you are working on. You should also do thorough research to understand it fully. Perhaps you might be interested in reading a reflection on time and stress management.
How to Write an Interpretive Essay
First things first, writing an interpretive essay is easy. Below are the steps to follow;
The first part of the essay should describe the scene to the engaged characters, audience, and mood. You should break down the entire context into smaller sections and analyze them.
Select the fascinating section for interpretation – pick the part of the literature that seems most alluring, and this is what you analyze. Analyze it in depth to ensure anyone reading fully understands this part of the book or poem.
Describe the scene at the start of the essay – this scene you are interpreting should be explained vividly in the beginning. Your reader should understand what the essay is about before they go to the next part of the essay.
Break the context into smaller sections – for easy and understandable analysis, break the scenario into smaller sections. That way, your reader will comprehend what is happening.
Present your information in contrasting and comparing form – one of the best ways to make people understand what you are talking about is by giving them the similarities and differences. Compare the given scenario or contrast it to another to make your audience relate.
Be logical – when writing an interpretive essay, you have to be logical as you explain your point of view. Be realistic and interpret the context logically.
Suitable format – you should also write the essay in the required format by your professor.
Interpretive Essay Structure
An interpretive essay has three critical questions, just like any typical essay.
The first section is the introduction paragraph. This section should include the thesis statement since it is your first point of interaction with your audience. It should also contain the major issue you are interpreting and the background of your topic or issue of interpretation. Aim to be more interactive and engaging in the introduction to capture your audience's attention.
The other section is the body. This is where you have to talk about your discussion and arguments that are relevant to your statement. Ensure that the researches and pieces of evidence are in line with your thesis statement. They should not go against it.
The last section is the conclusion. All the arguments and interpretations should then be summarized in the last part of the essay. That is the conclusion paragraph. Offer valid recommendations and your subjective opinion to your readers as a solution.
Even though this structure is quite basic to a reflection essay or any other essay, you should follow this when creating an interpretive essay. Aim to have major arguments to show your audience that you understood the literature piece.
Features of a Quality Interpretive Essay
A high-quality interpretive essay must have several features to make it stand out. Some features include:
1. A thoughtful thesis
You need to create a catchy and interesting thesis statement for any essay you write. The thesis statement contains two or one sentences that inform the reader about the essay. It should display your viewpoint and your reasons for supporting it.
2. Balance
Ensure that the entire essay balances out. That means you should have a brief introduction to introduce what you are writing about. That should be followed by similar lengths of body paragraphs and then a brief conclusion.
Balancing the essay means the introduction should be sizeable, and the body and conclusion should also have proportional lengths. Avoid lengthy conclusions and introductions.
3. Credibility
The perfect interpretive essay should be credible, which will only appear if you back up your arguments. Picks facts from other sources, such as journals and books, to support your opinions. Before submitting the essay, you need to check with a plagiarism checker if there are any instances of plagiarism.
4. Good transitions
The perfect interpretive essay is more than just the content. It is also about the ideal flow of words and ideas. The essay should have effective transitions from one paragraph to the next. Transitions is how you switch from one idea to another. Your essay should be smooth, thanks to the transitions. It should feel like you are talking to a friend.
5. Personality
The flow of ideas in your essay is dependent on how much fun it is creating the essay. Infusing some aspect of personality in your interpretive essay makes it stand out. That way, it makes it also easier to read for your audience.
Read through one of our essays on organizational culture well-written and researched by our team of experts.
Common Mistakes to Avoid When Writing Your Interpretive Essay
Understanding common mistakes, you can avoid when writing an interpretive essay is prudent. These mistakes could even be done when writing a descriptive essay. Some common of them include the following:
Avoid conjectures
Listing out facts – most students list facts and leave it there. You should explain your points and support your arguments and facts by clearly explaining them. Analyze all the facts, do not just list them.
Writing a summary – another mistake most people make is giving their readers a summary. Do not summarize your essay; explain your opinions and point of view by analyzing every argument.
Vague thesis statement – you should aim to create a clear and direct thesis statement that is understandable to you and the readers.
Incorrect essay formatting – some students fail to use the right formatting for their interpretive essays. Make sure you apply the right formatting for the essay.
Additional Tips on Writing an Interpretive Essay
Interpret your subject in a new manner and ensure that your ideas are fresh, unique, and interesting.
Expound your subject further by providing specific meaning of symbols, traits or any other aspects.
Give various kinds of reasons and support them explaining why you feel that your interpretation is true. Also ensure that you consider your audience.
Present each idea in the body in separate paragraphs. Include quotes and intext citations from trustworthy sources which will increase the credibility of your writing.
The final paper should follow the format of an interpretive essay; have an introduction paragraph and a well thought conclusion with the summary of the paper.
Creating the perfect interpretive essay takes work. There are lots of things to consider to create a masterpiece. That is why at Gudwriter, we offer professional interpretive essay writing help. We have expert online case study writers who create the best interpretive essays that guarantee good grades. Talk to us, and we will gladly handle the essay, regardless of the subject.

Special offer! Get 20% discount on your first order. Promo code: SAVE20