Examples of Spatial Order – With Outline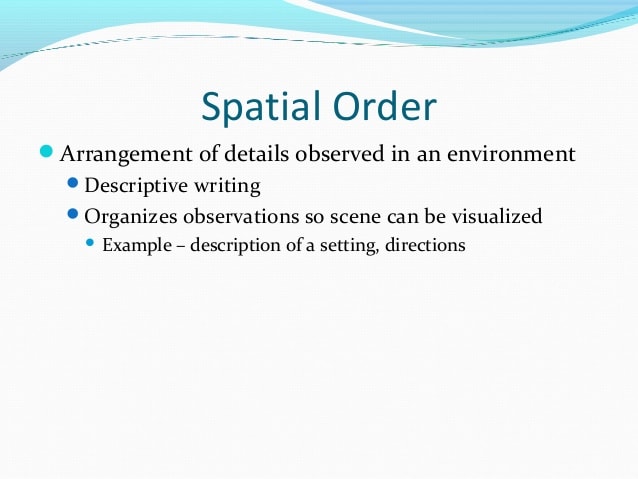 A spatial order is an organizational style that helps in the presentation of ideas or things as is in their locations. Most students struggle to understand the meaning of spatial order in writing and have a hard time putting ideas in the best manner possible to produce an excellent essay. Gudwriter has the best fast essay writing service with a pool of qualified experts ready to make your school life smooth by crafting quality papers that guarantee good grades.
Elevate Your Writing with Our Free Writing Tools!
Did you know that we provide a free essay and speech generator, plagiarism checker, summarizer, paraphraser, and other writing tools for free?
Access Free Writing Tools
Example 1: A Description of My Study Desk
A description of my study desk outline
Right
three-layer cabinet
pale orange dollhouse,
On
fading teddy bear
Near
white electric fan
Next to
grey laptop
blue brush
Nearby
green fine-toothed brush
phone
Against
nonfunctional laptop
Behind
row of books
Atop
steel dagger
Adjacent to
steel dagger
On top of
newspapers
A description of my study desk
There is a three-layer cabinet with a fading teddy bear on it in the extreme right corner of my study desk. My niece's pale orange dollhouse is positioned on its right. Near the dollhouse is a white electric fan. I have my working grey laptop right next to the electric fan, in an attempt to keep the device's temperature low. A green fine-toothed brush and my phone, which is protected by a black cover, are nearby. My black nonfunctional laptop is leaning against a stack of textbooks.
There is a row of books behind the aforementioned objects, including novels, comics, fantasy, and non-fiction. My study desk is adorned with vitality by the books' colorful edges. I have my steel dagger in plastic wrap atop the row of books. The steel dagger is adjacent to my violet and indigo-decorated pocket power bank. Next to the power bank is a blue hairbrush, then a stack of old newspapers. The newspapers are on top of a book about the world's hidden communities.
Example 2: A Description of My Bedroom
My large wooden study desk sits in front of me, and it extends from my window to the door, about one meter away. On my study desk are an orange dollhouse and a fading Mickey Mouse drawer. The desk is adorned with books that I have collected over a couple of years. It also has a wooden platform above it. A stack of books is placed along the platform. My clock is mounted perfectly on the pink wall about two feet above the stack of books. Two plastic pony figures are displayed in front of the stack of books. The first pony is smaller. Its mane is a brilliant shade of yellow, pink, and indigo. The second is about two inches taller. The mane's pink and blue hair is tidily braided. Beside the towering action figure is a row of six image frames. A sizeable blue bucket filled with used clothing is under the table. Pillows that are protected by a transparent cover are placed above the container's cover.
A three-foot-tall, pitch-black cabinet to my left holds my sisters' activity books. The top of the cabinet is ornamented with a variety of toys. Close to the cabinet is a glass bedside table. Next to the table is a huge green container that contains my cosplay outfits and accessories. Adjacent to the container is an aquarium with my bright-colored slider fish. There is a wooden cabinet to my right, between a dressing table and a four-layer plastic drawer. At the right corner of the table is a tiny plastic drawer with keys and other essentials. The left corner has a sky-blue chest with a purse and various treasures. Above the dressing table is a long triangular mirror mounted on the wall. It is positioned in the middle of two Styrofoam stars.
Example 3: A Description of My New Kitchen
The color of my new kitchen is a stunning rich crimson. A large sink with a dishwashing machine on the right side is located in the center of the wall. On the left, adjacent to the dishwashing machine, is the refrigerator. The three cabinets over the sink are the most gorgeous items in my kitchen. They have lamps inside of them, which I switch on in the morning and at night. The microwave and stove are located to the right of the sink. There is an open area with a sizable dining table close to the stove. At the dining table are six chairs. I keep my tableware, unused dishes, and the dining tablecloth in four drawers that are close to the table. Two little vertically open cabinets that are just above the drawers are filled with several cups for various drinks. There are a few cupboards to the left of the drawers where the frying pots, teapots, saucepans, and griddles are kept.
Resources to Explore

Special offer! Get 20% discount on your first order. Promo code: SAVE20