How to Write a Synthesis Essay – The Ultimate Guide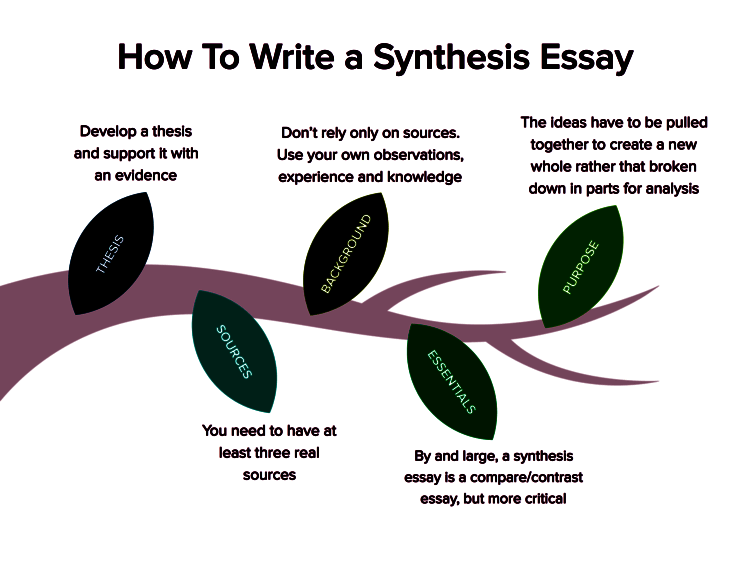 Writing a good synthesis essay needs research, curiosity, and thought to explore an idea or argue a specific point. Synthesis essay writing entails much intellectual work. Still, you can have the upper hand if you know how to craft a fascinating written discussion of a specific topic from various fields.
Elevate Your Writing with Our Free Writing Tools!
Did you know that we provide a free essay and speech generator, plagiarism checker, summarizer, paraphraser, and other writing tools for free?
Access Free Writing Tools
What is a Synthesis Essay?
A synthesis essay is a written discussion including support from several sources with different views. This type of thesis requires you to evaluate various sources and identify their relationship to your essay.
Synthesis Essay Structure
The basic synthesis essay structure contains three major parts: Introduction, body, and conclusion.
In the introduction, you provide the topic overview and present the essay's proposed claim or thesis statement. The introduction describes the topic and gives a rough outline of the ideas surrounding your topic. It may also briefly address the type of sources that you will use to support your thesis, which is your essay body and the relevance and background of your topic.
You integrate information from different sources to support the thesis statement in the body. It is in the body where you discuss each argument that you make. In each opinion, have the main idea sentence followed by supporting sentences. The first paragraph should present your essay counterargument, showing your ability to reason from an opposing point of view. Whatever you write in the body should have sources and evidence that back up the ideas. This is the format you should follow in all your paragraphs in the body section:
Supporting Argument
Topic sentence
Evidence
Evidence analysis
A conclusion is the summary of the entire essay. It reiterates your points and argument made in the thesis. In your conclusion, you may summarize the argument addressed in the body and state why it is essential.
Here is a synthesis essay example about homeschooling handled by our team of professonals following all the tips and guidelines mentioned in this article.
How to Write a Synthesis Essay Outline
You should always have a synopsis before you begin writing. An overview or an outline helps you know what to include in each paragraph. It serves as the backbone and enables you to focus throughout your thesis writing. This is how to write your synthesis essay outline:
Have your introduction section to be one paragraph. No matter your word count, your introduction should be around 10% of the total word count. For instance, if your thesis is 3000 words, you should have 300 words in your introduction.
When introducing your thesis statement in your essay outline, concentrate on presenting one of your three main ideas. You should not reveal all your main ideas in the introduction as this can make the reader not interested in reading the rest of the essay.
In your outline, when drafting your main body, each of the three paragraphs in this section should focus on one thought or idea. Remember you should use supporting sources and evidence from credible sources and reference them correctly as per the stated writing style. Use quotation marks when you exactly use words from another source or person.
Write down the sources as you craft your essay outline alongside the information so that you remember where you got a quotation or a piece of information.
Like the introduction, your conclusion should account for around 10% of the total word count. The conclusion should be direct and obvious for the reader to recognize that they are reading it. Refrain from introducing new information but summarize what you discussed in the introduction and the body.
Proofread your essay to ensure that there are no grammar, punctuation, and spelling mistakes. Also ensure that all the sources used are cited in the bibliography, reference list, or works-cited section and in-text citations are included properly depending on the paper format being utilized.
To write a quality synthesis essay your writing skills should be top-notch. This will help put your ideas together and help complete your paper in time.
Format to be Followed for a Synthesis Outline Structure
It is good to draft an essay outline before you start writing. The basic format structure of the synthesis essay follows this example:
1. Introduction
A striking statement
Precise mention of the main idea/argument
Include the thesis statement
It should be one paragraph long
2. The Body
It should be three paragraphs
Paragraph one
State the main idea/point
Evidence
Evidence Analysis/explanation
Paragraph two
State the main idea/point
Evidence
Evidence Analysis/explanation
Paragraph three
State the main idea/point
Evidence
Evidence Analysis/explanation
3. conclusion
It should be one paragraph long

Summarize the topic and the main ideas
Restate thesis statement
How to Choose the Best Synthesis Essay Topic?
Choosing the best synthesis essay topic can take time and effort, especially when your scope is limited. Your topic choice directly correlates with the quality of the essay you write. Therefore, follow the following tips to pick the best essay topic.
You should pick a topic that relates to your area of interest. If you select an irrelevant topic, your writing process will be tedious, and it won't be easy to catch the reader's attention.
Even though your synthetic essay topic should be relevant, it should interest you and the reader. It should not be so general that you cannot cover all ideas in a single piece of writing.
You should pick a topic you can easily discuss from a different point of view. An essay will only please the readers if it is debatable.
An interesting topic is easy to write about and saves time spent researching. You should choose an engaging topic to grab the reader's attention.
You should try to explore fresh and new topics that have not been excessively written, as it is the nature of people always to want to read something fresh. Don't go for overwritten cases that possibly the reader has come across since it will not captivate them.
Best Topics for Synthesis Essays
There are various types of synthesis essays. The common type includes explanatory, expository, and argumentative synthesis essays. The following are the best topics for synthesis essays you can choose from these categories:
Have smartphones made our lives easier or more complicated?
Should workplaces block social media?
How to put to an end the body shaming culture.
How can we effectively fight against the obesity epidemic?
What role do apps play in modern business?
Are video games a threat to youths?
How do computer malware and viruses form and spread?
Is depression the leading illness affecting society?
Sports events should not advertise tobacco and alcohol ads. Why?
What impact does gender identity has on social status?
Professional Synthesis Essay Assistance
Now, you know a synthesis essay's structure and outline. However, if you are still having challenges picking and crafting your synthesis essay, simply request "help me with my English homework service" and professional assistance from Gudwriter. We are the best custom research and term paper writing service that helps students write their essays, thesis statement, research papers, case studies and any other academic assignment.
Our professional writers will help you choose a topic and craft a customized essay that meets your requirements. Place your order now and free yourself from the burden of completing your assignments.

Special offer! Get 20% discount on your first order. Promo code: SAVE20