What have you done to make your school or your community a better place?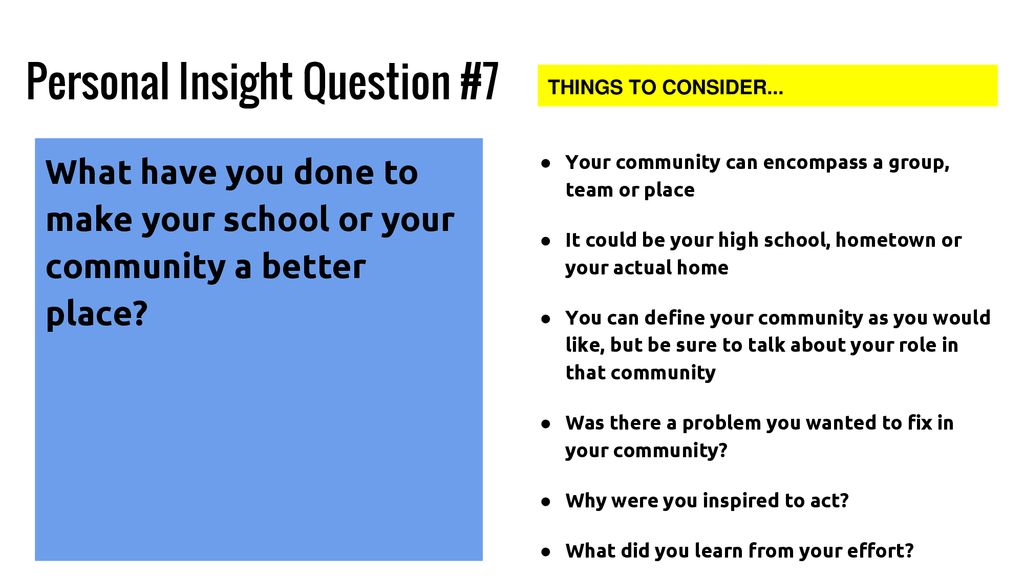 Are you having a difficult time writing your admission essay? Gudwriter is here to help! We offer you the expertise of the best and most experienced writers at affordable prices, making us the leading custom admission essay writing service. Our goal is to assist students in realizing their ambitions of attending an excellent college, and that is exactly what we provide!
Elevate Your Writing with Our Free Writing Tools!
Did you know that we provide a free essay and speech generator, plagiarism checker, summarizer, paraphraser, and other writing tools for free?
Access Free Writing Tools
What have you done to make your school or your community a better place?
Sample answer one
A boarding school experience is not always enjoyable. Frequently, the rules or living circumstances are poor and could be rectified. Small nuances that lower the standard of living in this kind of situation can be annoying. As a student who was dissatisfied with several aspects of the institution, I frequently voiced my concerns to roommates, classmates, and even others outside of the classroom. Of course, nothing was changed by this. After two years of complaining, I decided to change tact. I went right to the school headmaster's office and requested a conversation.
I reported to the headmaster about the severe dorm rules, the awful cafeteria food, and the numerous damaged and malfunctioning items in our residence that continued to be present for extended periods. I also stated that as a result of its remote location in the highlands, the school should give its learners additional opportunities to interact with the outside world rather than limiting them to campus-only contacts. To our amazement, he listened calmly rather than reprimand me for being disrespectful. I can tell with certainty that this served as the basis for my eventual cordial relationship with the headmaster. In the end, he considered my suggestions and implemented them toward resolving the issues. More lecturers from outside the university were invited as guest speakers, and the residence was maintained more frequently.
My classmates and I were astounded that I could genuinely influence things. My voice was not ignored as a whiny student but was genuinely heard. This taught me that I had a voice and could utilize it to effect change that would benefit both myself and other people. What had first been just plain discontent turned out to be beneficial for me and my fellow students. I still complain to him in his office today, often conveying the grievances of other learners, and he always listens patiently.
Read on how best write a double-spaced essay that will guarantee you an A+ grade.
Sample answer two
A major lesson I have gleaned from my readings and various engagements is that a clean neighborhood is a major contributor to community health. It was against this backdrop that, while in ninth grade, I organized a community cleanup exercise for my local neighborhood. Specifically, the exercise would be about the collection of trash, junk, and litter throughout the neighborhood. I created a detailed event plan for the exercise by including the focus areas, the project's goal, the minimum number of required volunteers, the proper apparel to wear, a list of materials to bring, and the necessary municipal permissions.
I followed this by inviting volunteers and sharing information about the event to recruit neighbors, family, and friends. I even made a Facebook public event page and spread the word widely. I also posted flyers on community noticeboards of nearby businesses, posted on Facebook and other groups on online social networks, and as well invited my friends and relatives to post about the event on their pages. I requested that local merchants and residents of my neighborhood provide items for the cleanup. Some of the items I asked of them included recycling and garbage bins, gardening supplies, rakes and shovels, goggles and gloves, and trash bags. While I expected them to respond to my call, they did it in a manner that overcame me with joy!
On the material cleanup day, I appointed volunteer group leaders to serve as instructors and group leaders for the exercise. Also worth noting is that volunteers overwhelmingly turned up for the event. This reminded me that at times, people may just be waiting for one person to initiate a project before they fully show their support. Just two hours was enough for a thorough cleanup of the entire neighborhood. Perhaps more importantly, this single modest action from me sired a community cleanup culture in my community. We now have a similar cleanup event every three months!
Sample answer three
I am a devout Christian and a member of my church's outreach and mission committee. Our group travels on missions to various nations to assist populations in need by supplying food, constructing homes and schools, and supporting young children's education. We also assist our neighborhood by donating food and clothing through local food banks over the holiday season. As the leader of the youth wing mission group, I last year spoke with the larger church group about something novel but not unusual. Two students in my neighborhood were struggling to pay their college tuition, so I thought why not persuade my church group to attempt a fresh approach to fundraising to assist these budding scholars? After all, they say charity begins at home.
I sought an audience with the leader of the greater mission group and we agreed on the particulars of the fundraising. I made her see sense that while those students were not our church members, with one even being a non-Christian believer, they were our community members and were entitled to an equal chance at life. She told me that for this particular funds drive, it would be prudent to involve other community stakeholders as well. So we did letters and distributed them throughout the community, with a clear message that educating a child is akin to maintaining the lifeline of a community.
The response was massive. We fundraised enough money to get the two students through college. And that was not the end of it. A new idea was born out of the event. The community deliberated and agreed that no single student from the neighborhood should fail to get an education because of school fees. A community-owned program of subsidizing fees for needy but academically-gifted students from the community was birthed in earnest. So far, the program has helped four additional students, and I could not be prouder about it.
Related college admission essay questions
Medical school essay; where do you see yourself in 5-10 years?

Special offer! Get 20% discount on your first order. Promo code: SAVE20